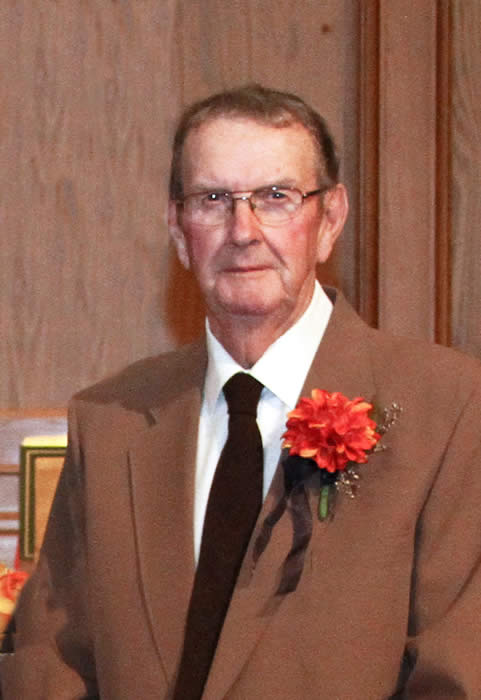 Gerhard M. Ellingson
Gerhard Ellingson, age 81, of Carrington, ND, formerly of Grace City, ND, died Saturday, March 2, 2013, at Golden Acres Manor in Carrington.
Gerhard Mandroph Ellingson was born on February 8, 1932, the son of Gunder and Inger (Fundingsland) Ellingson in Carrington. He attended country school in Haven Township in Foster County and also attended school for a short time at Juanita.
On November 10, 1957, Gerhard was united in marriage to Darlene Hins in Medina. ND. He served in the US Army and was stationed in Italy. After his Honorable Discharge, they lived in Carrington for a short time where Gerhard worked at the lumber yard before moving to a farm near Grace City in 1959. Gerhard farmed and raised cattle and in 1970, he studied at home to start a sideline business in air conditioning and refrigeration repair. Gerhard retired from farming and they moved to Carrington in the fall of 2010.
He was a supervisor on Nordmore Township board for many years and served on Foster County ASCS later known as FSA board for 3 terms. Gerhard was a member of James River Lutheran Church, Grace Lutheran Church in Grace City, and Trinity Lutheran Church. In 1987, they traveled to Norway to visit relatives. Gerhard enjoyed farming, raising cattle, tinkering in the shop and watching baseball.
Gerhard is survived by his wife, Darlene of Carrington; one son, Mitchell (Lori) Ellingson, Grace City; one daughter, Janine (John) Gisi, New Rockford, ND; two grandchildren, Kelsey and Katie Gisi; three brothers, Einar Ellingson, Glenfield, Arvid (Lillian) Ellingson, West Fargo, ND, and Lester (Val) Ellingson, Carrington.
He was preceded in death by his parents; one brother, Dennis Ellingson; four sisters-in-law, Pat Ellingson, Leona Walcker, Bernice Guthmiller and Wanda Topp; and one brother-in-law, Gerald Walcker.

PRAYER SERVICE: Tuesday, March 5th at 7PM, Evans FH, Carrington
FUNERAL SERVICE: Trinity Lutheran Church, Carrington, ND
DATE AND TIME: Wednesday, March 6, 2013 at 10:30AM
BURIAL: James River Cemetery, rural Grace City, ND
---
Posted Condolences:
Name: Rochelle
Date: 3/19/13
Message: Please be reassured that whatever the pain and sorrow that comes from the loss of your dear loved one, that God, can be your comforter, through prayers and Psalms let his will be done in Heaven and on Earth. Matthew 6:9,10; Psalms 130:1-6; Psalms 37:10,11.

***
Name: Elvin Isgrig
Date: 3/12/13
Message: The Isgrig family extends their sympathy to Darlene and the rest of their family at the loss of Gerhard.  I remember him and his brothers and cousins from when they came to Glenfield High School.  It was good to see Franklin at last summers Centennial!  I still get warm feelings thinking about their joining the Glenfield High School gang and participating in the social and sports activities.
***
Name: Gary Klein
Date: March 5
Message: Dear Darlene and Family,
So saddended to learn of Gerhard's passing. What a great neighbor he was for so many years. I treasure the many talks in the shop and his kind heart and soul. He and Mitch helped me a lot on the farm and wished I could have done more in return. God bless-----Gary

***
Name: Chuck & Karen
Date: March 6, 2013
Message: Darlene and Family,
Our thoughts and prayers are with your families. Just know that Gerhard is well and free from all pain. The pain is now in the hearts of everyone that knew him and his family. Hang on to all the wonderful memories.
Chuck and Karen Anderson

***
Name: Joshua Dreher
Date: 3/5/13
Message: Sorry for your loss. Prayers to the Ellingson family.

***
Name: Bonnie Ostenson
Date: 03/05/2013
Message: Hi Darlene and family, I was so sorry to read of the passing of Gerhard. It is so hard to lose a loved one. You are in my thoughts and prayers. My God's comforting arms hold you close at this difficult time. Bonnie Ostenson (nee Schaack)