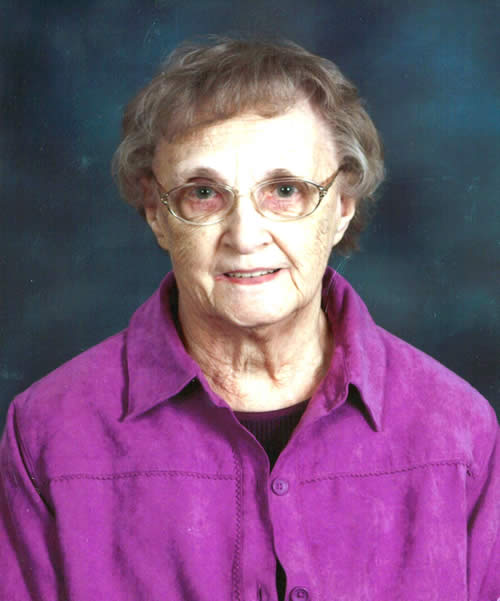 Gladys M. Erickson
Gladys M. Erickson, age 89, of Moorhead, MN, formerly of Sheyenne, ND, died Thursday, February 4, 2010, in MeritCare Hospital, Fargo, ND.
Gladys Mildred was born on August 6, 1920 to Edward and Petra (Spangberg) Sund in Sheyenne, ND. She grew up in Sheyenne, graduating from Sheyenne High School. On October 8, 1939, she married Arthur Orville Erickson on her parent's farm near Sheyenne, ND. Gladys was a homemaker who had a love of gardening flowers and vegetables. She also enjoyed canning, cooking and baking. Most of all, she loved time spent with her grandchildren and great-grandchildren. Gladys and Arthur moved to New Rockford, ND after Arthur retired from farming. In 2000, they sold their home and moved to Moorhead, MN. Arthur died July 15, 2005.
Gladys is survived by three daughters, Glennys (Sigurd) Sivertson, Moorhead, MN, Kay (David) Nilson, Hazen, ND and Nancy (John) Benson, Maddock, ND; one son, Dean (Sheila) Erickson, Maddock, ND; one sister, Thelma Myhre, New Rockford, ND; two brothers, Erling (Dorothy) Sund, Columbus, OH and Clifford (Karen) Sund, Cedar Falls, IA; three sisters-in-law, Erika Sund, Phoenix, AZ, Vivian Sund, Seattle, WA and Diane Sund, New Rockford, ND; 7 grandchildren and 13 great-grandchildren.
She is preceded in death by her husband, parents, one sister, Anna Irmen; three brothers, Glen Sund, Herald Sund and Rolf Sund; and two nephews, Larry Sund and Matthew Sund.

Funeral Service: First Lutheran Church, New Rockford, ND
Date and Time: Tuesday, February 9, 2010 at 10:30 AM
Interment: Augustana Lutheran Cemetery, rural Sheyenne, ND

---
Posted Condolences:
Name: Don & Karen Emineth
Date: 02/06/2010
Message: Dean & Sheila. We are sorry to hear of the passing of your Mother Gladys. Although we wish these inevitable events wouldn't come upon us, we know that our christian beliefs, which were passed on to us my our own dear parents, rejoice for her to move on to the loving care of our Lord. Although we did not know her personally, we can only imagine that she was a kind and loving woman. Our prayers extend to you and family in desire that you gently progress through this period of time. With, love, care and concern.
*************