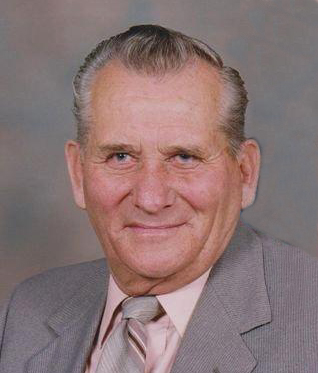 Hubert "Jack" Schaack
Hubert "Jack� Schaack, age 80, of Jamestown, ND, formerly of Sykeston, ND, died Tuesday, October 5, 2010, at Carrington Health Center, Carrington, ND.
Hubert J. Schaack was born on August 28, 1930, the son of Mathias and Theresa (Laber) Schaack in Bilodeau Township, near Sykeston, ND. He attended St. Elizabeth's grade school and graduated from Sykeston High School in 1948. Jack graduated from Hanson Mechanic and Body Technical School in Fargo. He served in the US Army for 2 years and then for the National Guard for a year. In 1953, Jack started farming and retired from farming in 1997.
On May 26, 1955, Jack was united in marriage to Elaine Peterson in Kensal, ND.
He was a member of Bourke-Hollingsworth American Legion, served on Wells Co. FHA Board, and was a life member of St. Elizabeth's Catholic Church.
Jack is survived by his wife, Elaine, Jamestown, ND; seven children, Christine (Brad) Stephanson, Kent, MN, Colette Schaack, Jamestown, ND, Celeste (Dennis) Leier, Detroit Lakes, MN, Jewel (Brion) Bittner, Jamestown, ND, Jill Dalziel-Dahl, Devils Lake, ND, Joy (Kim) Zeltinger, Fargo, Marti (Terri) Schaack, Neosho, MO; fourteen grandchildren; five great-grandchildren; two sisters, Marilyn (Vernon) Schaubert, Henderson, NV and Valeria (Donald) Herman, Renton, WA; two brothers, Jerome (Marlene) Schaack, Bismarck, ND and Robert (Shirley) Schaack, Cascade, MT; and many nieces and nephews.
He was preceded in death by his parents; and a sister, Norma Zink.

Funeral Service: St. Elizabeth's Catholic Church, Sykeston, ND
Date and Time: Saturday, October 9, 2010 at 10:30 AM
Interment: St. Elizabeth's Catholic Cemetery, Sykeston, ND
---
Posted Condolences:
Name: Annette and Paul Haynes Family
Date: Tuesday, October 12, 2010
Message: Dear Aunt Elaine and family, We are sending our deepest sympathy to you all. Uncle Jack was a person who made everyone feel special...he always had a smile for everyone, and he was deeply loved...especially by my Mom. The kids still happily remember their rides on the ATV. He will always have a special place in our hearts, especially mine, as my loving Godfather. God Bless you all. You are in my prayers always and forever. Mass will be celebrated at St. Raymond's for Jack. I know you miss him a lot. Lots of love and hugs.

***************
Name: Sue (Laber) Swanson & Freda Laber
Date: October 9,2010
Message: So sorry to hear about Jack. Our thoughts are with you, Elaine, and all the kids. We both have good memories of him and the whole family! Susie and Freda
***************
Name: Greg Zink
Date: October 8, 2010
Message: Jack was, is, and always will be "the man". My heart goes out to all the family.

***************
Name: Monica Romano (Zink)
Date: October 8, 2010
Message: Jack was a Wonderful uncle! I will always remember his smile and laugh. Mom talked about him quite frequently and I will always treasure the memories of that summer that Annette and I were able to come stay with you guys when we were younger. I love you all!

***************
Name: Leah Schaaf / Houston, Texas
Date: Ocotober 8
Message: Elaine and family,
I am thinking of you and all your family. You and the children will surely keep Jack close in precious memories through cheers and tears. Keep a song in your heart and you are in my prayers.
God's love and mine, Leah

**************
Name: Linda Perleberg
Date: 10-08-2010
Message: Nainie and family, I'm sorry to read of Jack's passing. My thoughts and prayers are with you all.
Linda

***************
Name: Wanda (Adamson) Mengelkoch
Date: 10/08/10
Message: Sorry for your loss. Take care.
I went to College @ Devils Lake with Jill and Joy.
***************
Name: Peggy
Date: 10/8/10
Message: Our sympathy to your family in your loss. Jack was such a wonderful, kind man with a great sense of humor. I always enjoyed spending time at your home and admired your large family. Your support of each other and faith in God will be a comfort to you in the days ahead.

***************
Name: Dawn Rost
Date: 10/8/10
Message: Elaine and Family,
May memories of Jack comfort you and bring you peace during this very difficult time.

***************
Name: Vee Erickstad
Date: October 7, 2010
Message: To Jill, your Mom and family. Thinking of you during this time of sadness, knowing that the Lord is with you and holding you.
Vee
***************
Name: Terry D. Brown
Date: 10/07/10
Message: Marti and family, I am saddened to learn of your loss. Even though I only met your family briefly over 30 years ago (SEARCH), I remember your close relationhsip and christian faith. I remember my visit to your home fondly and have wondered about what life brought your way, frequently. My mother passed away on September 5, 2010, so I understand your loss and want you to know that you have my deepest sympathies. Terry
***************
Name: Gary & Lynette Shock
Date: 10-07-2010
Message: Our sympathies, Jill and the rest of the family. May it help to know that we are thinking of you and sending our deep condolences.
***************
Name: Lisa Solwey
Date: 10/07/2010
Message: Elaine and family - My prayers to all of you. Jack was a wonderful man and I so enjoyed helping care for him the past few years. His smile and laugh will be greatly missed.