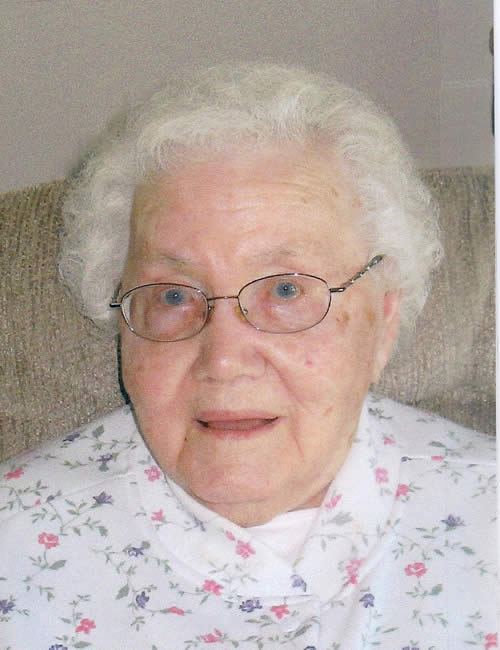 Ione Klocke
Ione Klocke, age 94, of Carrington, ND, died Friday, March 12, 2010, at Golden Acres Manor, Carrington, ND.
Ione Vivian Hillstrom was born on September 28, 1915, the daughter of Carl Frederick and Anna Matilda (Lidberg) Hillstrom at Sheyenne, ND. She grew up at Sheyenne and New Rockford, ND, and attended schools there.
On September 28, 1933, Ione was united in marriage to John J. Klocke at New Rockford. They farmed there until 1953, when they moved to Sykeston, ND, where John operated a farm implement dealership and a bar. In 1956, they moved to the Hawk's Nest area southeast of Sykeston, where they again farmed. In 1979, they retired and moved to a farmstead closer to Carrington. In 1997, they moved into Carrington. John died on February 10, 1998. Ione moved to Holy Family Villa in 2006 and later to Golden Acres Manor in 2009.
She was a member of Sacred Heart Catholic Church in Carrington. Ione enjoyed quilting, crocheting, reading, and spending time with family. She made many quilts and afghans for her family and friends.
Ione is survived by five sons, Donald (Mary Kay), Gerald (Berty), and Thomas , all of Carrington; James (Gayle) of Placentia, CA, William (Pamela) of Maple Grove, MN; two daughters, Linda (Harlan) Olson, Carrington, Susan (Joel) Heiden, Grand Forks; 20 grandchildren; 17 great-grandchildren; 6 great-great-grandchildren; and daughter-in-law, Janice Klocke, Henderson, NV.
She was preceded in death by her husband, John; one son, Larry; four brothers, and two sisters.

Funeral Service: Evans Funeral Home, Carrington, ND
Date and Time: Sunday, March 14, 2010 at 1:00 PM
Interment: Carrington Cemetery

---
Posted Condolences:
Name: Louise Klocke Tunseth
Date: 14 March, 2010
Message: I am so sorry for your loss. I remember when we lived south of your farm. We would come to visit. I remember your Mom made hooked rugs. Mom and I would visit with her when she lived on the East side of Carrington. She was always a gracious hostess. Of all my aunts on my Dad's side of the family, Ione is the one I remember being around the most.