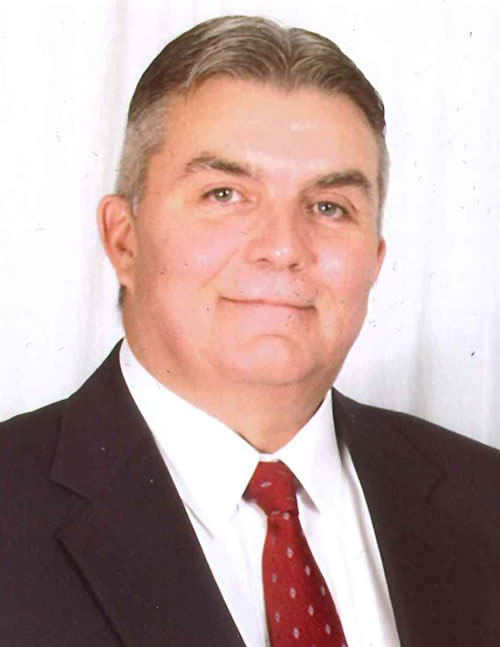 Gary Jensen
Gary Lee Jensen, Sr., age 53, of Grand Forks, ND, lost his courageous battle with cancer at Valley Eldercare Nursing Center in Grand Forks, ND.
Gary was born on October 16, 1959, the son of Clarence D. and Eunice (Lange) Jensen in Carrington, ND. He grew up in various towns in ND calling Carrington his home town. Gary worked with the Carrington Police Department in 1977-78. He worked for the State of ND Dept. of Transportation Truck Regulatory Division on August 14, 1978 to July 1983, when the division was merged with ND Highway Patrol Motor Carrier. Gary worked for 35 years with the State of ND.
On February 24, 1979, Gary was united in marriage to Paula Bush in New Rockford, ND. They made their home in Grand Forks, where they raised their children. Gary enjoyed farming and gardening.
Left to mourn his passing is his wife, Paula; their two children, Nicole A. (Josh) Martinson and Jeremy L Jensen, both of Grand Forks; 7 grandchildren, Cody, Alissa, Zoe, and Robert Martinson, Keeley Goldade, Beau and Levi Jensen; his brothers, Joel (Peggy) Jensen, Green Bay, WI, Todd (Lisa) Jensen, Oshkosh, Wi; sisters, Sarah (Jason) Kuntz, West Fargo, ND, Jessica (Brian) Voight, Avon, SD; stepmother, Bonnie Johnson Jensen, Fargo, ND; mother-in-law, Eileen Bush Rickels, New Rockford, ND; many brother and sister- in laws, nieces and nephews, aunts, uncles, and cousins.
He was preceded in death by his parents; infant son, Gary Lee Jensen Jr.; and sister, Lisa M. Jensen.
Thank you to all the wonderful care providers at the Cancer Center, Altru Hospital, Valley Eldercare and family and friends for your support thru this difficult time. Gary's Family
PRAYER SERVICE: Wednesday, July 17, 2013 at 7:00 PM in Amundson Funeral Home, Grand Forks, ND
FUNERAL SERVICE: Trinity Lutheran Church, Carrington, ND
DATE AND TIME: Thursday, July 18, 2013 at 2:00 PM
INTERMENT: Carrington Cemetery, Carrington, ND
---
Posted Condolences:
Name: Sheree Bush Harrell
Date: 7/18/13
Message: Gary is my uncle. I have a lot of good memories of family gatherings! The Lord is with all of us during this difficult time.
Revelation 21:4
He will wipe away every tear from thier eyes and death shall be no more, neither shall there be mourning, nor crying, nor pain anymore, for the former things have passed away.

***
Name: Jensen's Carpet Care & Restoration team
Date: 7-17-2013
Message: Sincere sympathy to the family of Gary Jensen. Our prayers & thoughts are with you during this difficult time. Several of us at Jensen's Carpet Care met Gary over the last few years and found him to be a kind & sincere man with a gentle stength. May Gary live on in your hearts with the cherished memories you hold of him.
***
Name: Don Polasky
Date: 07/16/13
Message: Dear Paula, My condolences to you and your family on your loss of Gary. I am a retired trooper, and got to know Gary working the truck enforcement detail. Gary always presented himself as a gentleman. He was a good man. I think I was impressed most of all by his good nature. Again I'm very sorry for your loss.

***
Name: Adam Dvorak
Date: 07/16/2013
Message: Gary Jensen was a very kind and gentle man. I always enjoyed visiting with him, and he was an extremely dedicated state employee. Very proud to have known him, and to have worked with him over the years. He will be missed.

***
Name: Marlene Hoffman eichelberg
Date: 7-16-2013
Message: Gary Jensen was the son of my cousin Eunice and grandson of my aunt Martha Lange. I met him once at my fathers (H.A.Hoffman's) 100th birthday party. He had a beautiful singing voice. I am so sorry I didn't get to know him better or get to know his family. I would love to contact any of them if they'd like. God bless you all and may your good memories hold you close.

***
Name: Gerald Lutman
Date: 07/15/2013
Message: Sorry to hear about the passing of Gary. He was such a nice guy to work with, when we had that opportunity. He will be missed greatly. From all of us at Carrington House Moving, rest in peace!

***
Name: Jen Erickson
Date: 7/15/13
Message: Gary was such a special man, he and my husband first went through cancer at the same time, and he always was so thoughtful and caring. He was a great supporter at our church, the Grand Forks Seventh-day Adventist Church, and we miss him greatly. Until we are reunited in heaven one day...

***
Name: Kelli Benjaminson
Date: 07/15/2013
Message: Thoughts and prayers to the Gary Jensen family. He was a very friendly man who enjoyed meeting new people throughout his journey of life. He will be greatly missed but know that he's in heaven no longer in pain.