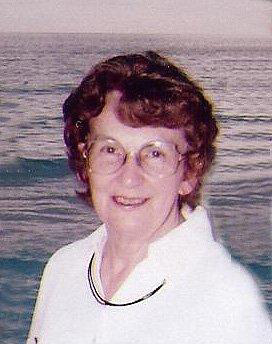 Mary Scheck
With family at her side, Mary Scheck passed away on Sunday, January 31, in a Fargo hospital from the effects of cancer and heart disease. She was eighty years old and had lived a very healthy, loving, and active life.
Mary Bonita Beatrice Bickett was born to Henry and Emma Bickett at home in Melville, ND on February 23, 1929. She attended a country school while helping her family on their farm. As a young woman, Mary worked at the Lindrud's Variety store in Carrington, where she took joy in weighing and selling candy to children. Mary was united in marriage to Stanley G. Scheck on November 22, 1950, shortly before Stanley left for Japan to serve in the Korean conflict. The Schecks lived as a couple in Washington state briefly during Stanley's military service, then returned to Stutsman county. Together they farmed and raised their four children near Edmunds. Mary enjoyed playing games, and was especially fond of word games and cards. Mary loved music, she played piano and guitar by ear, and she enjoyed singing and could even yodel. When Stanley was hired by the Carrington school district to drive and service its bus fleet, Mary often helped him by driving a route herself as a substitute. She and Stanley regularly enjoyed coffee and conversation with the staff at the school, who came to know Mary as a friendly, dependable, hard-working woman who adored being with children. She was hired as a cook at the school in 1981, and served breakfast and lunch to school children in Carrington for the next 29 years. Feeding and talking to the children was extremely meaningful to her and she never did get around to retirement. In 1988, Mary and Stanley moved to Carrington. She deeply grieved her husband's death in 1995, and then rose to the challenge of living as a single, independent woman. She loved and held her family close for the next fifteen years. She saw her granddaughter get married in 2008, and enjoyed a little well deserved vacation to Jamaica in the process. She threw her last dinner party for her family to celebrate Christmas 2009. Over the next month, she bravely made her health care decisions and did her best to cope with the medical conditions that brought her to this life's end.
Mary is survived by her her children, Stan (Lynn), Fargo; Terry (Ray Mulvey), Becker, MN, John (Donna), Brooklyn Park, MN and James (Shari), McHenry, IL; eight grandchildren and six great grandchildren; and her sisters, Nora Jokumsen, Irene Busche, Leola Pollert and Violet Boom.
She was preceded in death by her parents, her husband, Stanley; her daughter, Mary Michon Scheck; her sister, Grace Pollert; and brothers, Merle Bickett and Earl Bickett,
Mary enjoyed flowers during her life, but even more so, she loved feeding people. In lieu of flowers the family asks that memorials be given to the Carrington food bank, Our Daily Bread, 875 Main Street, Carrington N.D. 58421.
Funeral Service: Private Family Services will be held
Interment: Carrington Cemetery, Carrington, ND


---
Posted Condolences:
Name: JoLynn
Date: 2/1/10
Message: Aunt Mary was always a favorite aunt; a gentle yet strong woman whose spirit will live on in her children, grandchildren, great-grandchildren, and all those children whose lives she touched at the school. May God hold gently all who mourn her passing, as He is surely holding Aunt Mary now.
**************
Name: Dawn Robson
Date: 2-3-10
Message: What a wonderful obituary and wonderful memorial. Mary was always such a blessing and will continue to be in the lives of many whom she has touched and fed!
**************

Name: Cindy Parmer
Date: 02/03/10
Message: My thoughts and prayers are with you during this difficult time.
**************