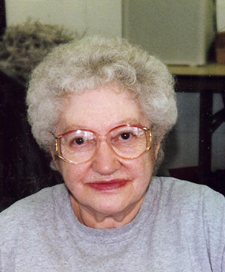 Della Fischer
Della Fischer, age 85, of New Rockford, ND, died Saturday, June 13, 2009, at her home in New Rockford, under the care of Presentation Hospice, Carrington, ND.
Ida Della Fischer was born July 12, 1923, at Eureka, SD, the daughter of Adam and Lydia (Kallenberger) Fischer. She grew up at Eureka where she attended school for a short time. Della lived with her parents until they moved to Ashley, ND in 1973. She lived there with her mother until March of 1987, when she moved to 4th Corporation at New Rockford.
Della enjoyed living on the family farm and liked animals. She is remembered as a loving Aunt that enjoyed children. Coca-Cola was her favorite drink, and red was her favorite color. Della always took great care of her appearance. She attended the New Rockford Evangelical Free Church, and was a regular for the Thursday morning coffee of the church women at Baker's Dozen. Della was also a member of the New Rockford Red Hat Society.
She is survived by one sister, Olga Macy of Anderson, CA; four nieces and nephews: Kathy Mendoza, Mary Mosser, Debra Fries and Mark Wetzel, all of California; 14 great-nieces & nephews; and 9 great-great-nieces & nephews.
Della was preceded in death by her parents, and one sister Olivia Irene Guthmiller.

Funeral Service: Evans Funeral Home, New Rockford, ND
Date and Time: Monday, June 15, 2009 10:30AM
Interment: Eureka Cemetery, Eureka, South Dakota Monday @3:30PM

---