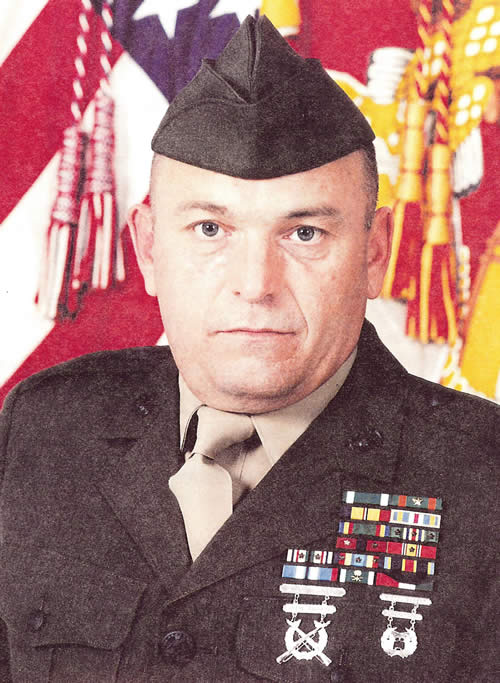 Jerome Zacher
Jerome Zacher, age 55, of New Rockford, ND, died Sunday, August 30, 2009, at his home with his wife, Mary at his side, after a long battle with cancer.
Jerome Joseph Zacher was born on July 17, 1954 at Linton, ND, to George and Amelia Zacher. At seventeen years old enlisted in the U.S. Marine Corps, and made it his career for 25 years. Jerome married Mary Zapp on June 3, 1989 in Desert Hot Springs, CA. He retired as a Master Gunnery Sergeant and soon after gained employment as a supervisor for Covad, a DSL company in Los Angeles, CA. Jerry and his family relocated to North Dakota in 2006 and lived in New Rockford until his death.
He enjoyed goose hunting, fishing and deer hunting with friends and was blessed in living his greatest dream – returning to North Dakota for his remaining days.
He is survived by his wife, Mary, New Rockford, ND, three children; Christopher (Beth) Zacher, Colorado Springs, CO, Andrea (Justin) Oakley, San Antonio, TX, and Jerome Zacher, PV2, U.S. Army, stationed in Germany, three grandchildren; Talen, Haiylee, and Madalynn, his mother, Amelia Zacher, Bismarck, ND; three brothers and one sister, Francis (Lois) Zacher, Wilton, ND, Bob Zacher, Bruce (Rhonda) Zacher, and Robin Zacher, all of Bismarck, ND, and five nieces and nephews.
Jerry was preceded in death by his father, George.

Funeral Service: St. John's Catholic Church, New Rockford, ND
Date and Time: Thursday, September 3, 2009 at 10:30 AM
Interment: (To be determined)

---
Posted Condolences:
***
Name: Scott Peters
Date: 8/31/2015
Message: My deepest condolences to the Zacher family for your loss. Jerome was my mentor and friend at Covad in the early days. "Top" was a good man and I am honored to have the privilege of working along side of him.
***
Name: Dave Trei
Date: 8/18/2011
Message: My condolences to the Zacher family. Top (MSGT) Zacher was my boss in 29 Palms with Comm Plt., 3rd LAI. A great Marine and always kept us busy. He'd also go to bat for us whenever necessary. I'd like to know where he is buried so that I could pay my respects there as well. Thank you.