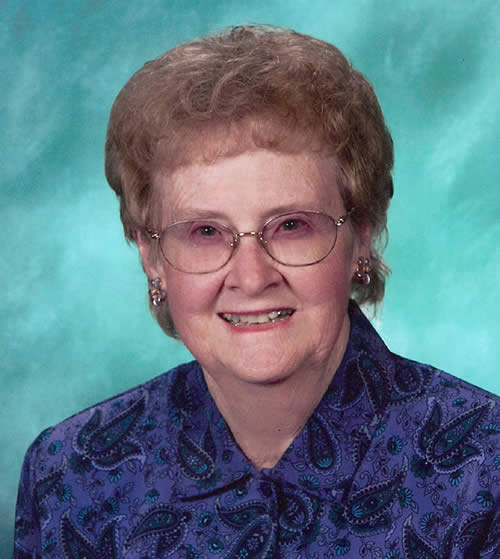 Nellie Dablow
Nellie Dablow, age 81, of New Rockford, ND, died Friday, June 26, 2009, at Lutheran Home of the Good Shepherd in New Rockford.
Nellie Alice Hulst was born February 28, 1928, at Inkster, ND, the daughter of Ralph and Ida (Mulder) Hulst. They moved to a farm near Gilby, ND, in 1933, where Nellie attended school. In September of 1944, they moved to Vancouver, Washington where her father worked at the Kaiser Shipyard during WWII. The family moved back to N.D. in 1946, and settled at Grahams Island, 14 miles west of Devils Lake, ND. Nellie graduated from Minnewaukan High School in 1947, and began working at the Farmer's State Bank. She later moved to New Rockford. On November 4. 1949, Nellie was united in marriage to Clifford Dablow at Fessenden, ND. To this union, four daughters were born. They were married 40 years when Clifford died in 1989 from a heart attack.
Nellie had worked at the Eddy County Courthouse in the Agriculture Farm Agency office. She then worked for the Eddy Co. Soil Conservation District and the Community Credit Union for a short time. She also was Bookkeeper for her husband's livestock dealer business. Later she was employed at Lutheran Home of the Good Shepherd for ten years.
Nellie was a member of First Lutheran Church, and was an active member of a church circle. She was a member of the American Legion Auxiliary, and had also served as Treasurer for many years. Nellie was a previous TOPS member, and a current member of the New Rockford Red Hats.


She is survived by her daughters, Merita (Adnan) Aldayel, New Rockford, ND, Carol (Lewis) Boyd, Merritt Island, Florida, Charlene (Ivan) Holleman, Mountain Home, Arkansas, Linda (Craig) Fenske, Grand Forks, ND; 4 grandsons & 4 granddaughters; and one sister, Alice Hager of Galesburg, Kansas.
Nellie was preceded in death by her husband, her parents, and one brother Dirk Hulst.

Funeral Service: First Lutheran Church, New Rockford, ND
Date and Time: Thursday, July 2, 2009 10:30AM
Interment: Prairie Home Cemetery, New Rockford, ND

---
Posted Condolences:
***
Name: Nadia Anfinson (Nadia Aldayel)
Date: December 8, 2014
"I still miss you, Grandma. I was overseas when you were in pain and passed away, and I'm sorry for that. I love you."
Nadia