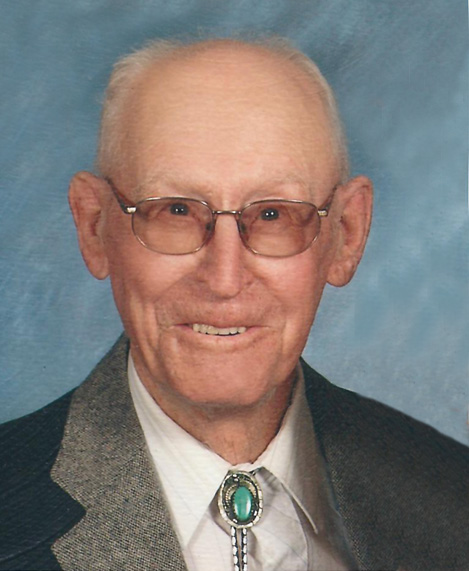 Lester D. Dreher
Lester D. Dreher, age 92, of Carrington, ND, formerly of McHenry, ND, died Thursday, December 31, 2009, at MeritCare Health in Fargo, ND.
Lester D. Dreher was born December 5, 1917, the son of Fred and Millie (Mitchel) Dreher at Grace City, ND.  He attended school at Juanita, ND, through the 9th grade.  Lester then went to work on the family farm and also for neighboring farmers. 
Lester was united in marriage to Margaret Gluesing on February 14, 1941, at McHenry.  He entered the US Army in October of 1942, serving in the European Theatre during WWII.  He started in northern Africa, Tunisia, Sicily, Italy, southern France, Austria, and southern Germany.  Lester was honorably discharged October of 1945.  He returned home to McHenry to farm until he retired in 1997.  They continued to live on their farm until 2008, when they moved to Poplar Court in Carrington, ND.
Lester still enjoyed going out to the farm on weekends to garden.  He loved to fish, making many trips to Waterhen, Canada, where he had a cabin.  He also enjoyed hunting, especially for deer and geese.  Lester was a 50+ year member of the Carl Bostrom American Legion Post #160, McHenry.
He is survived by his wife of 68 years, Margaret, Carrington, ND; a daughter Carolyn Bakke of Binford, ND, a son Doug (Anne) Dreher of Devils Lake, ND; three grandsons: Doug (Becky) Bakke, Fargo, Scott Bakke, Frazer, CO, Matthew Bakke of Binford; two great-grandchildren: Elise Bakke and Eva Rose Starke; also two sisters: Bernadine LaMert in California, Elda (LaVern) Ehnes in Colorado, and many nieces and nephews.
He was preceded in death by his parents; three brothers, Raymond, Glenn, & Walter; one sister Mae Merrick; and his son-in-law, Jim Bakke.

Funeral Service: Our Savior's Lutheran Church, McHenry, ND
Date and Time: Monday, January 4, 2010 at 11:00AM
Interment: Bethlehem Cemetery, McHenry, ND (in the Spring)

---
Posted Condolences:
Name: Al & Dorine Pewe (sent 1-2-10)
Message: Maggie and family - Our heartfelt sympathies on your loss. I have a lot of fond memories of Les when I was growing up. Trapping pocket gophers, picking rocks, getting milk and eggs, and playing in the haymow! Al Pewe
**********