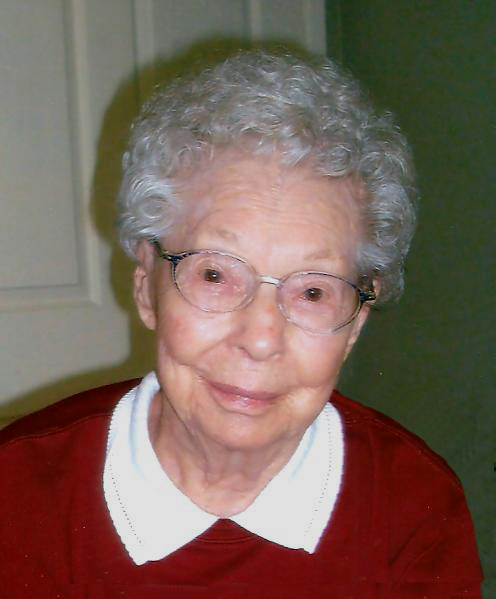 Lola M. Holten
Lola M. Holten, age 96, of San Marcos, CA, formerly of New Rockford, ND, died January 5, 2010, at the Palomar Medical Center in Escondido, CA. 
Lola May Linse was born in Binford, North Dakota on January 18, 1913, the daughter of Clarence and Erna (Annie) Linse.    She grew up at Sutton, ND and attended school at Sutton and Cooperstown, ND.   Lola was united in marriage to Rupert A. Holten on January 3, 1935, at Devils Lake, ND.  They lived most of their lives in North Dakota, living in several towns including Sutton, Warwick and New Rockford.   Rupert and Lola both worked for the Archie Campbell Road Construction Company for many years.  Rupert Holten died on November 12, 1995. Lola moved to San Marcos, California in 2005, to live near her son. 
She was a member of First Lutheran Church, New Rockford, ND.  Her hobbies included sewing, needlework, gardening, cooking, ceramics, rock collecting, polishing and rock art.  She enjoyed flowers, reading, and all of the above.
Her survivors include two sons Darold (Virginia) of Vista, CA; Donald (Elizabeth) of Stewartville, MN; and one daughter Ann (Richard) Olson of Midland, Michigan; also eight grandchildren, eleven great-grandchildren, and one great-great grandchild.
Lola was preceded in death by her husband, Rupert.
In lieu of flowers, please make a contribution to your favorite charity in memory of Lola

Funeral Service: First Lutheran Church, New Rockford, ND
Date and Time: Tuesday, January 19, 2010 at 10:00AM
Interment: Prairie Home Cemetery, New Rockford, ND

---
Posted Condolences:
Name: Ruth ANN (Boisjolie) Michaelson, sent on 1-16-2010
Message: My sympathies to all of you.
*************************************************