Evans Funeral Home
"Compassionate Funeral Service"
Carrington and New Rockford, North Dakota
701.652.3003 or 701.947.2911
Secondary Number ~ 701.650.9937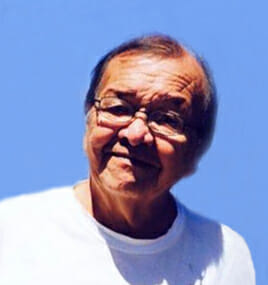 Joseph Carl "Little Joe" Alberts Sr. entered the spirit world with his loving family by his side on Wednesday, February 20th, 2019, at Altru Hospital in Grand Forks, North Dakota.
Joseph Carl Alberts Sr. was born on September 23, 1953, to Ramauld Alberts (Spirit Lake Tribe) and Victoria Twiggs (Standing Rock Sioux Tribe) in Devils Lake, North Dakota.   Little Joe was the 5th of 7 children in his family. Little Joe was reared and educated in Saint Michael, ND, he attended the Little Flower School, where he made several lifelong friends.  He received his GED and Law Enforcement Certification from United Tribes Technical College.
Little Joe moved to Los Angeles, California where he worked for the Tribal American Consultant Corporation as a Teacher Assistant, later on promoted to Job Counselor.  Here he met his wife Rita Willow of Arapahoe, WY.  Of this union they had three children Joseph, Jolene and Henry.  They moved to Chadron, Nebraska where Little Joe became the 1st Native American on the Chadron Police Force.  He was also a BIA Police Officer at the Fort Totten Police Station and Pine Ridge Police Station.  He worked at a News Station in Riverton, WY.  Then a Seismic position in California. Little Joe and Rita divorced.  Little Joe meet Kathleen Rider of Harlem, Montana in California. Of this union they had five children Jessica, Jennifer, Jason, Jewell and Jeremy.  They made a home in Sacramento, CA where Little Joe worked at Tecumseh Construction Company.  In 1989 they moved to Saint Michael, ND and made this their home.  Here Little Joe gained employment from Spirit Lake Tribe, he proudly served his tribe for many, many years.  Little Joe worked at the Tribe's first Casino in St. Michaels.  Little Joe helped establish the Ambulance program where he was an EMT.  He loved working at the Fire Department where he was Fire Chief with many accomplishments and awards, during this time he had a part time job installing Dish Satellite TV.  Lastly he became the Director of Emergency Management.   Little Joe was an influential leader in every aspect of his life.
Our Dad was a very hard working man his whole life, he was very caring, giving, put everyone's needs before his, very generous to all, he was big hearted to family, friends, everyone he met.  Papa Joe will be greatly missed by all his grandchildren.  Our Dad loved to remanence on all the places and adventures he traveled too. He will be missed by many, especially his great sense of humor, jokes, song singing and stories.  He will be greatly missed beyond what any words can express.  Our Dad has left a very prominent legacy that all of his children are proud of.
Little Joe is preceded in death by his parents, Ramauld Alberts and Victoria Twiggs; paternal grandparents, Joseph Alberts and Mattie Lohnes; maternal grandparents, Thomas Twiggs and Mary Bullhead; brothers, Henry Alberts and Thomas Alberts Sr.; sister, Julie Ann Smith; nephew, David Smith "Baby Dave," many aunts, uncles and cousins.
Little Joe is survived by his children, Joseph (Annrell) Alberts Jr., Riverton WY, Joline Alberts, Arapahoe WY, Henry Alberts, Riverton WY, Jessica (Darcy) Alberts, Fort Totten ND, Jennifer Alberts-Robertson, St. Michael ND, Jewell Alberts, Jason Alberts and Jeremy Alberts, St. Michael ND; sisters, Myra (Frank) Lohnes, Cynthia Alberts; brother, Ramauld Alberts; nephews, James Alberts, Tracy Alberts, Thomas Alberts Jr., Michael Alberts, Charles Alberts,  Frank H. Lohnes, Stephen Sanderson, Michael Smith and Brian Alberts; nieces, Lorraine Alberts, Lori Alberts, Tami Smith, Billie Joe Smith; special nieces, Vonnie Jo Alberts, Vicki Alberts, Alyssa Alberts, Tanya Lohnes and Lisa Nickelson-Alberts; 30 grandkids, Darsie Ann Longie, Dason Longie, Dru Longie, James Robertson III , Jadyn Robertson, Bianca Cavanaugh , Avionna Cavanaugh, Joredae Alberts, Jayla Alberts, Jason Alberts Jr, Javon Alberts, Jaylyn Alberts, JayElle Alberts, Sincere Alberts, Noah Black, Jace Alberts, Kashton Alberts, Taya Alberts, Jeremy Alberts Jr, Jordan Alberts, Jax Alberts, Luna Day-Alberts, Jospeh Alberts III, JoLynn Alberts, Kristian Alberts, Tawnya Alberts, Samantha Alberts, Jo-Mike Leftbear, Renea Mosher, Virginia Friday, Marcus Friday and Sophia Friday.
Wake Service will begin Monday, February 25, 2019, at 5:00PM, with a Rosary Service at 7:00PM, all in St. Michael Recreation Center, St. Michael, ND.
His Funeral Service will be held Tuesday, February 26, 2019, at 10:00AM in St. Michael Recreation Center, St. Michael, ND.
Burial will be held at the St. Michael's Catholic Cemetery, St. Michael, ND.
Condolences are reviewed by staff.