Evans Funeral Home
"Compassionate Funeral Service"
Carrington and New Rockford, North Dakota
701.652.3003 or 701.947.2911
Secondary Number ~ 701.650.9937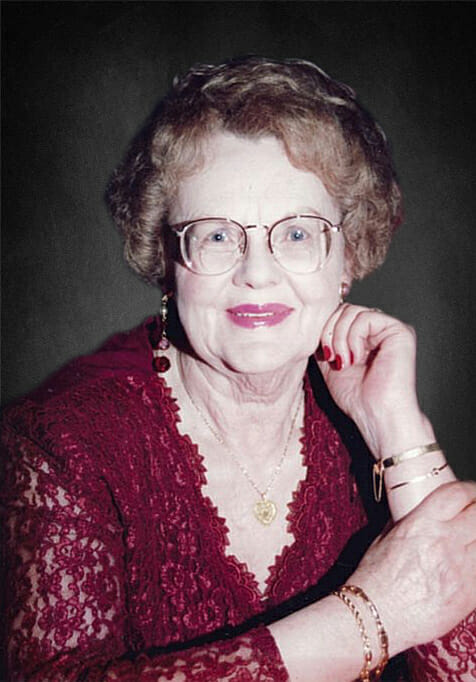 Marilyn D. Allmaras, age 97, passed away peacefully on Wednesday, April 7, 2021 at the Lutheran Home of the Good Shepherd, New Rockford, ND.
She was born March 12, 1924, in Sheyenne, ND, to John and Amanda Hill.  She graduated from Sheyenne High School and continued her education at Oregon State University, Oregon.  Marilyn received her music education from the Music Conservatory of the Chicago College of Performing Arts with a major in piano.  She obtained a Standard Teaching Certificate from North Dakota, and later her Licensed Practical Nursing (LPN) from North Dakota.
Marilyn was united in marriage to Edward J. Allmaras on January 19, 1945, in Philadelphia, Pennsylvania.  She was a member of St. John's Catholic Church, New Rockford.  During her life, she pursued various professions – teaching in country school, giving private piano lessons, and working as an LPN at the Lutheran Home of the Good Shepherd.
Marilyn is survived by one daughter: Margo R. Allmaras of Fargo, ND; two sons: Dr. Mark (Kimberly Lorenzetti) Allmaras of Valparaiso, IN and Gregory (Susan) Allmaras of Prescott Valley, AZ; eight grandchildren: Jed (Melissa Hamm) Iverson, Tai-Shan (Jessica LaCanne) Allmaras-Zen, Scott (Rochelle) Thompson, Angela (Arthur) Cofell, Christopher Thompson, Shawnda Allmaras, Trevor Kuhn; six great-grandchildren: Gunnar and Dessirae Thompson, Chelsea Hermanson, Ashly (Matthew) Gabel, Aaron Cofell and Brianna Thompson; one great-great grandson: Ryker Gabel and one brother: Gordon (Darlene) Hill of Mandan, ND.
She is preceded in death by her parents: John and Amanda Hill; her husband: Edward Allmaras; daughter: Dr. DeVon M. Allmaras and grandson, Reid Allmaras.
In lieu of flowers, Marilyn's family requests that memorials in her honor be directed to The Women's Auxiliary Cemetery Association of New Rockford.
Visitation will be Wednesday, April 14, 2021 from 9:00AM – 5:00PM at Evans Funeral Home, New Rockford.
Private Family Mass of Christian Burial will be held Thursday, April 15, 2021 at 10:30AM at St. John's Catholic Church, New Rockford.
Burial will be at the St. John's Catholic Cemetery, New Rockford.
Condolences are reviewed by staff.