Evans Funeral Home
"Compassionate Funeral Service"
Carrington and New Rockford, North Dakota
701.652.3003 or 701.947.2911
Secondary Number ~ 701.650.9937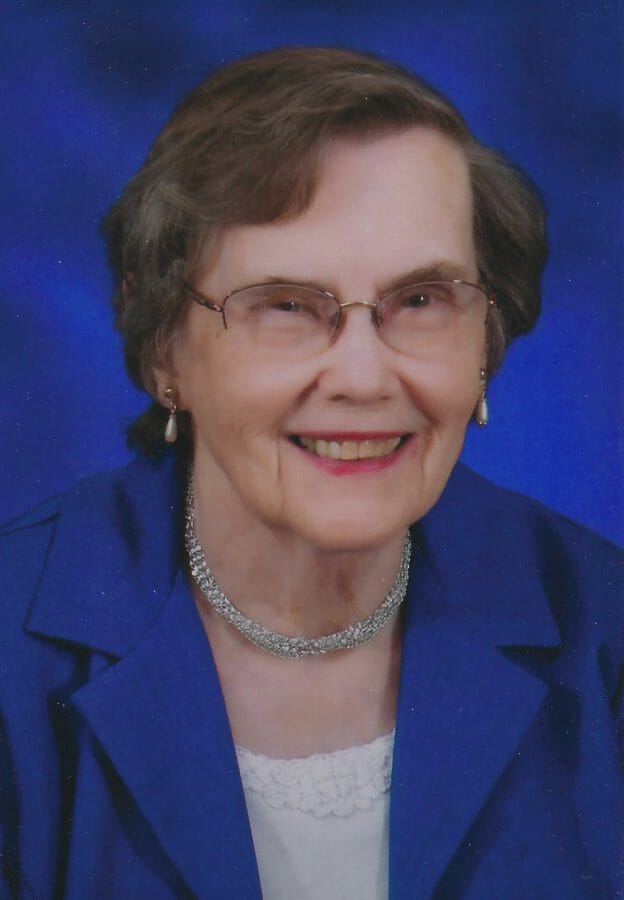 Evelyn Marie (Dramstad) Anderson, the eighth child of Norwegian immigrants Hans and Bergine (Hagesveen) Dramstad, was born in Cooperstown, ND on August 4, 1927, and passed away on January 19, 2023, at the Auberge Assisted Living Residential Community in Missoula, MT, of congestive heart failure.
Evelyn graduated from Sutton High School and attended Wahpeton State School of Science and Valley City State Teachers College. She was employed by Leegard Auto and Oil Company in Valley City as a bookkeeper and later taught in a one-room country schoolhouse in Kingsley Township for two years, the first of which she lived in the back room of the schoolhouse, responsible for "keeping the fire burning".
On the cold, wintery night of November 23,1949, Evelyn eloped with Darold Anderson and were married in the parsonage of Trinity Lutheran Church in Cooperstown with Mike Kjelgaard and Virginia Green as their attendants. Mike and Virgina later married and became life-long friends of Evelyn and Darold.
In 1955, at the young ages of twenty-seven, Darold and Evelyn bought the Hannah Stock Farm south of Bordulac, ND, and created the Bordulac Stock Farm where they raised registered Angus cattle, Yorkshire hogs, and Suffolk sheep, but soon dropped the sheep and hogs. They farmed many acres of small grains and corn and developed life-long friends through the North Dakota Angus Association, Carrington Trinity Lutheran Church, and Bordulac farming community.
They sold the Bordulac Stock Farm in 1973, built a house in Glenfield, ND, and continued to farm in that area until 2007 when they retired and moved to Fargo. They enjoyed winters in Harlingen, TX, for 36 years and built a strong family of "Winter Texan Friends".
In 2019, Evelyn moved to the Auberge Assisted Living in Missoula, MT, to be closer to family. There she developed close friendships at the Auberge, both with residents and staff.
Evelyn was the epitome of a partner-wife, a loving mother, a loyal friend, and a devout Christian. She was a baptized and confirmed member of Mabel Lutheran Church of Sutton, ND.  She witnessed to others, not through words, but through her daily living. Her charitable heart was evidenced through 50 years of sending Christmas cards to every resident at the Carrington nursing home, later the Cooperstown nursing home, and finally the Fargo nursing home.
Evelyn was a multi-faceted craftsperson, including sewing her daughters' clothes when they were young, creating wood items (she was the only woman to use the woodshop at the winter TX Park and her nose was bent out of shape when they advised she should have one of the guys cut the wood for her), embroidery (which she continued to do through the day before her passing), Norwegian Hardanger, woodcarving (up to 94 years old), making greeting cards. One of the greatest legacies she leaves is establishing the quilting group (of three) in Fargo, making over 1,200 lap robes and donating them to Hospice, the Veterans Hospital, and Sanford Hospital. Evelyn was an avid reader.
Evelyn was extremely proud of her Norwegian heritage. One of the highlights of her life was making her first trip to Norway in 1970, where she literally connected now over 60 relatives in Norway to her family of origin here in the United States. She made three additional trips to Norway and visited places where her parents had grown up and she spent cherished time with her relatives in their homes.
Evelyn is survived by her four daughters: Jayne VerLee, Holland, MI; Muriel "Micki" (Gary) Tourtelotte, Superior, MT; Donna (Philip) Eli, Churchs Ferry, ND; and Becky (Dave) Verbyla, Fairbanks, AK. She is also survived by five grandchildren: Shane (Jess) McCorkle, Missoula, MT; Sara (Tim) Leishman, Lolo, MT; Mike (Beth) Eli, Greeley, CO; Miranda Eli, England; and Jonathan (Kerrie) VerLee, Hudsonville, MI; as well as eight great-grandchildren. She is also survived by a brother-in-law Kent (Barbara) Anderson, Cooperstown, ND and numerous nieces and nephews, as well as many relatives in Norway.
After a happy marriage of 64 years, Darold passed away in 2013. Evelyn was also preceded in death by her six brothers and their wives: Albert and Etta, Martin and Hulda, Bjarne and Clara, Harry and Lorraine, Sigurd and Eleanor, Edwin and Sylvia; one sister and her husband, Esther and Oscar Lundeen; and a son-in-law, David VerLee.
Contributions in memory of Evelyn Anderson may be made to:
Mabel Lutheran Cemetery c/o Bob Johnson, 450 96 Ave SE, Sutton, ND 58484
or
Big Sky Hospice of Missoula, 1900 S Reserve St., Missoula, MT 59801
Evelyn's Burial and Memorial Service will be held in North Dakota later this spring.
Condolences are reviewed by staff.