Evans Funeral Home
"Compassionate Funeral Service"
Carrington and New Rockford, North Dakota
701.652.3003 or 701.947.2911
Secondary Number ~ 701.650.9937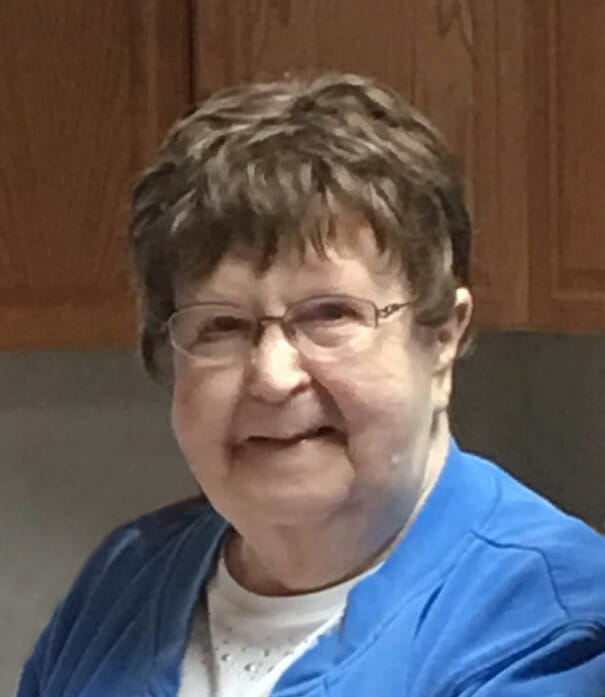 Mary Ann Barthel, age 82, of Bordulac, ND, passed away January 29, 2019, at the CHI, St. Alexius, Carrington.
Mary Ann was born December 1, 1936, in Carrington, to Joe E. and Lucy M. (Wagner) Carr.
Mary Ann attended school in Bordulac.  She attended college in Valley City, ND, and got her teaching degree.  Mary Ann taught in a country school located in Melville Township.  After the school closed, she worked at the Foster County Bank.
On September 15, 1962, Mary Ann and Virgil D Barthel and sister, Judy and Dick Ziemba were united in marriage in a double wedding ceremony in Carrington.  Mary Ann and Virgil made their home in Bordulac for 56 years. They were blessed with seven children, she stayed at home raising her children. Once they were grown she went back to work at the Prairie Inn in Carrington.
Mary Ann loved sewing clothes for her family; she also cherished making, quilts, baby quilts and doing needle work.  She has embroidered many dish towel sets and enjoyed gifting them to her family.  Mary Ann treasured drinking coffee and visiting with many friends and neighbors.
She is survived by her husband Virgil; seven children, Jerry, Bordulac, ND,  Patty Woods-Mcabee, Tuckerman, AR, Peggy Hopkins, Fargo, ND, Teddy (Patricia), Edgewood, MD, Brad, Edmunds, ND,  Nancy (Tim) Hoyt, McHenry, ND and Scott (Kim), Mapleton, ND; 11 grandchildren, Valerie and Staci Woods; Tabitha McKay, Brady and Hunter Hopkins; Kyle, Courtney, Dakota and Brittany Barthel; Jamie (Ziegler) and Jessica Hoyt; 7 great grandchildren; 1 brother, Don (Lydia), Carrington, ND; 1 sister, Judy (Dick) Ziemba, Fargo, ND; 2 brothers-in-law, Bob Barthel, Veneta, OR and Don (Pat) Barthel, Mapleton, IA and many nieces and nephews.
Mary Ann is preceded in death by her parents; 1 infant sister, Jean; 2 brothers, Maurice and Bill and 1 sister-in-law, Ellen Barthel.
Services will be held in the spring at Evans Funeral Home. 
Condolences are reviewed by staff.