Evans Funeral Home
"Compassionate Funeral Service"
Carrington and New Rockford, North Dakota
701.652.3003 or 701.947.2911
Secondary Number ~ 701.650.9937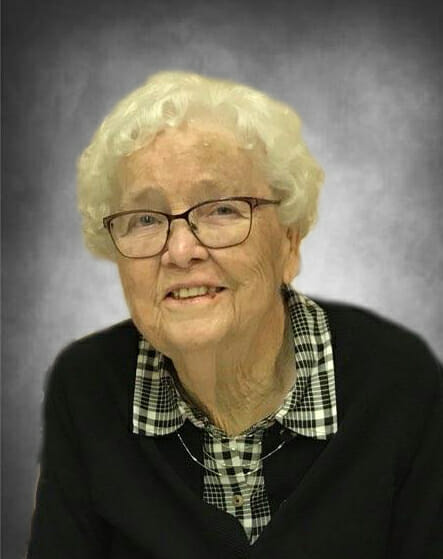 Jane Holmen Bata, 87, of Kensal, N.D., died Sunday, Aug. 8, 2021, in Grand Forks.
Jane was born July 10, 1934, in Glenfield, N.D., the daughter of Sven and Fannie (Thoresen) Holmen. She graduated from Glenfield High School in 1952. Jane attended Valley City State College, earning an associate degree in teaching. She was always proud of the fact that she played basketball in college.
Jane taught for one year at the one-room rural Haven Township school in Foster County. 
On June 12, 1954, she married Charles Bata Jr. at St. John's Catholic Church in Kensal. They lived in Washington where Charles served in the U.S. Army. After he was discharged in October 1954, they returned to Kensal, where they worked the family farm, located seven miles northwest of Kensal, until February 2019 when they moved to Grand Forks.
They had two children, Janet (Greg) DeVillers and Jeff (Shelley) Bata.
Life for Jane and Charles revolved around their farm, family, and church.  They also enjoyed attending the school activities of their children and grandchildren. Jane was an active member of St. John's Catholic Church, serving on the altar society, the cemetery board and helping serve at countless fall suppers, Memorial Day dinners and funeral fellowship luncheons.
Jane and Charles were married for 65 years at the time of his death in 2019. While she gained friends while living in Grand Forks, her desire always was to be able to return to Kensal, to the farm, and the many lifelong friends she had there.
Jane is survived by her two children and their spouses; grandchildren Missy (Joey) Miedema, Brian DeVillers, Carrie (Mike) Riske, Stefanie (Todd) Geatz, Brandon (Alicia) Bata, Brittany (Shane) Primeau and Nick Bata; and great-grandchildren Mariah and McKinley Bata, Charlie and Maggie Miedema, Jack and Ian Riske, Max, Zach, Gabby and Gage Geatz and Asher and Everett Primeau. She also is survived by sisters-in-law JoAnn Somsen, Jamestown; Frances Dahl, Cooperstown; and Helen Schlotman, New Rockford; and many nieces and nephews.
Jane was preceded in death by her husband; her parents; her parents-in-law; and siblings Oscar, Wilfred, Edwin, Faye, June, Doreen, and Hazel and their spouses. She also was preceded in death by several of Charles' siblings and in-laws.
Jane's family extends special thanks to the kind and caring caregivers at Grand Forks' Altru Hospital, Altru Cancer Center, Parkwood Assisted Living and Valley Senior Living. 
Please direct memorials to: St. John's Catholic Church Cemetery Association, Alzheimer's Association (act.alz.org), or American Cancer Society (cancer.org).
Jane's Visitation will be Friday, 5:00PM-7:00PM, a Rosary Service will be at 6:45PM followed by a Vigil Service at 7:00PM all at St. John's Catholic Church, Kensal.
Her Mass of Christian Burial will be held Saturday, August 14, 2021, at 10:00AM at St. John's Catholic Church, Kensal.
Her Burial is at St. John's Catholic Cemetery, Kensal, ND.
Condolences are reviewed by staff.