Evans Funeral Home
"Compassionate Funeral Service"
Carrington and New Rockford, North Dakota
701.652.3003 or 701.947.2911
Secondary Number ~ 701.650.9937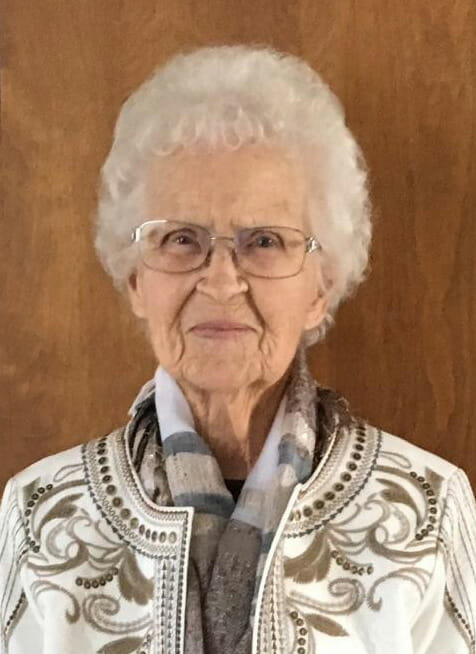 Arlene Benson, age 93, of Sheyenne, ND, died Friday, February 19, 2021, at Lutheran Home of the Good Shepherd, New Rockford, ND with her family by her side.
Arlene Marie Logen, was born July 19, 1927, to Thomas and Bertha (Mickelson) Logen on the family farm in Benson County. She attended and graduated from school in Oberon, ND. Arlene continued her education in Fargo where she attended Dakota Business College.
Arlene was united in marriage to Robert Benson on January 2, 1954, at Grace Lutheran Church in Sheyenne, ND. They made their home on the farm and were blessed with eight loving children. Her love for her children continued down to her grandchildren, great-grandchildren and great great-grandchildren. She enjoyed all of the family gatherings that took place over the years. Not only was family important to her, but her friends throughout life were as well.
Arlene was employed at Farmers and Merchants Bank in Sheyenne as well as being a full-time homemaker for eight children. She worked on the farm with Robert helping with chores and the daily tasks of life on the farm. They lived on the farm until 1988, then moved into Sheyenne. Arlene kept busy with yardwork and her flower gardens. Arlene and Robert loved to travel throughout the winter months after retirement. She enjoyed her time cross-stitching, quilting with the ladies from the church, playing pinochle and Sudoku.  Arlene was a member of Grace Lutheran Church, the V.F.W. Auxiliary and the Lutheran Church Women's Group.
She is survived by her children, Debera (James L.) Zieman, Sheyenne, ND, Sandy Hanson, Sheyenne, ND, Bonnie (David) Nelson, Devils Lake, ND, Roger (Gabbie) Benson, Sheyenne, ND, Rhonda Hanson (Charlie), Kiowa, KS, Annie (Dennis) Weber, Sheyenne, ND, Gordon (Colleen) Benson, Sheyenne, ND, Mark Benson, Dunn Center, ND; twenty-one Grandchildren, forty-three Great-Grandchildren and two Great-Great-Grandchildren; one sister-in-law Winnie Fenning.
Arlene is preceded in death by her husband Robert Benson, her parents, an infant daughter, one son-in-law Dennis Hanson, a grandson Jordan Zieman, two great granddaughters Josie Hanson and Gracie Ystaas, a brother Edwin Logen and two sisters-in-law Vivian Riding and Ruth Nelson.
Visitation will be Tuesday, February 23, 2021 from 9:00AM – 5:00PM at Evans Funeral Home, New Rockford.
Funeral Service will be held Wednesday, February 24, 2021 at 11:00AM at Grace Lutheran Church, Sheyenne.
Burial will be at the Riverside Cemetery, Sheyenne.
Condolences are reviewed by staff.