Evans Funeral Home
"Compassionate Funeral Service"
Carrington and New Rockford, North Dakota
701.652.3003 or 701.947.2911
Secondary Number ~ 701.650.9937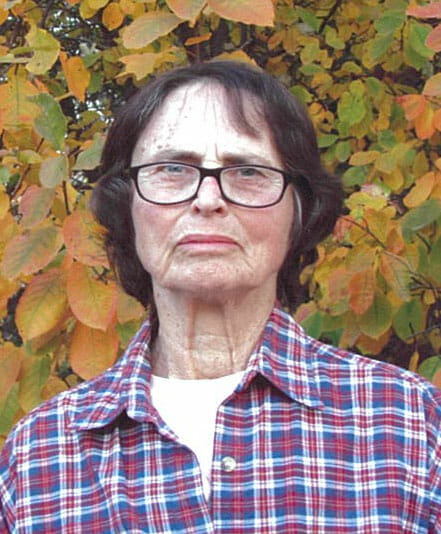 Aileen Berglund, age 93, of Sheyenne, ND, passed away peacefully at her home on Wednesday, June 15, 2022.
Aileen Emelia Carlson was born January 22, 1929, on her mother's homestead in rural Sheyenne, the daughter of Sven Wilgoth and Jennie (Anderson) Carlson.  She was raised on her family farm in Twin Tree Township, and was baptized and confirmed at Grace Lutheran Church in Sheyenne.  Aileen graduated from Benson County Ag Training School.
On September 14, 1968, Aileen was united in marriage to Erland Berglund at Grace Lutheran Church, Sheyenne, ND.  They made their home on the Tall Tree Ranch, where they raised their son, Johnathan.
Aileen enjoyed working on the farm and keeping their cattle in line.  She attended many ELCA church meetings through Grace Lutheran Church.  She also enjoyed keeping up with her gardening, having many conversations with friends and family.  She also enjoyed trips to Sweden, she had taught herself Swedish.  Her greatest pride and joy was her son and two grandchildren.  Aileen was a seamstress and excellent baker, she decorated cakes for everyone's birthdays and was known for her cake decorating.
Aileen is survived by her daughter-in-law, Karla (Omoth) Berglund; two grandchildren, Gretchen Berglund (Keegan Anderson) and Nicholas Berglund; siblings, Blenda Carlson, Linnea Carlson, Wilgoth (Gail) Carlson, Mauritz (Eileen) Carlson, Judy Sorenson and Eunice (Newton) Dick; and many nieces, nephews and cousins.
She was preceded in death by her husband Erland Berglund, her son Johnathan Berglund, her parents, and two siblings, Vivian Carlson and an infant boy.
Aileen's Visitation will be Sunday, 5:00-7:00PM followed by a Prayer Service at 7:00PM all at Evans Funeral Home, New Rockford.
A Funeral Service will be held Monday, June 20, 2022, at 10:00AM at Grace Lutheran Church, Sheyenne, ND
Her Burial will be at the Riverside Cemetery, Sheyenne, ND.
Condolences are reviewed by staff.