Evans Funeral Home
"Compassionate Funeral Service"
Carrington and New Rockford, North Dakota
701.652.3003 or 701.947.2911
Secondary Number ~ 701.650.9937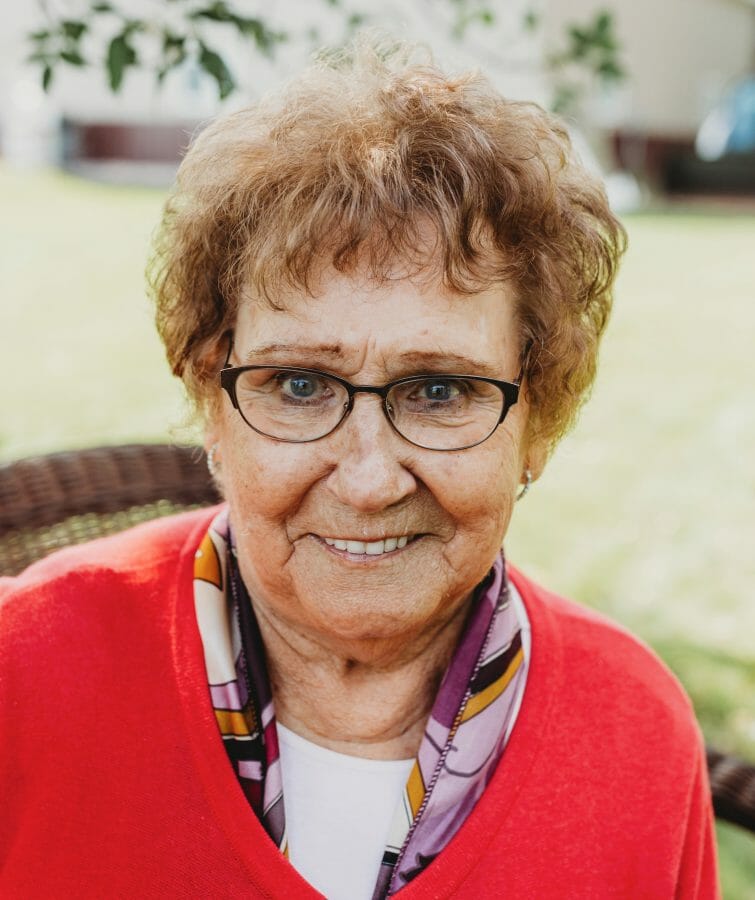 Those we love only walk this earth for a short time. Their departure reminds us that angels are watching over us. On Friday, October 8, 2021, Angie Blonigen rejoined her heavenly family and entered into eternal life.
Evangeline Madonna Volk was born on December 4, 1936 to Stephen and Veronica (Adam) Volk in Drake, ND. Angie was the oldest of 11 children and upon completion of 8th grade she took on the great responsibility of helping to support her family and care for her younger siblings.
On October 3, 1955 Angie was united in marriage to Clarence Blonigen. Over the years, Clarence's job took them many different places and they made each one their home for a short time. Angie held a variety of jobs throughout her life, but none as important as that of mother to her children Mary Kay & Dale. Angie's children, grandchildren and great grandchildren were truly the light of her life. She imparted upon them the wisdom and lessons only the best of mothers and grandmothers can share and loved them beyond any measure.
Those who knew Angie knew her as a woman of strength and immense faith. Her love for the Lord surpassed everything and it was her most fervent prayer that her family know and love Jesus as she did. Angie was a longtime member of St. Cecelia's parish in Harvey, ND and was currently a faithful member of Sacred Heart Catholic Church. Angie was generous and giving, always willing to share her time and talents through her extensive volunteer work. She could always be found fixing hair at the nursing home, running the hospital coffee cart or answering the call whenever something was needed at her home parish.
Angie will be deeply missed by her daughter & son in law- Mary & David Nelson, grandchildren- Ryan (Jessica) Nelson, Erin (Jeffrey) Kummer, & Sara (Dean) Pennington, great grandchildren – Peyton, Tyler, Evianna, Emmelia & Exavier Nelson, Rileigh, Noah & Aria Kummer, Sisters– Joyce Keyes, Beatrice (Wayne) Heatherly, Patricia (Gary) Aber, Brothers- Steve "Butch" (Judy) Volk, Doug (Deb) Volk, Virgil (Terry) Volk, brother in law Kenny Guynup and many nieces, nephews and cousins.
Greeting her in heaven are her parents – Stephen & Veronica, husband- Clarence, beloved son – Dale, great grandson Grady Nelson, siblings & their spouses – Gerard Volk, Richard Volk, Veronica Guynup, Loretta (Donald) Puppe, Gladys (Bill) Paulson, brother in law – James Keyes, niece – Lynn Puppe Sarver, nephew Stacy Puppe, Clarence's siblings – Ryland (Norma) Blonigen, Rita (Wade) Gulbranson & Mary Ellen (Jerry) Alford and her most faithful and well-loved companion, her cat Muffy.
A Visitation will be Monday from Noon-7:00PM with a Rosary Service at 6:45PM followed by a Vigil Service at 7:00PM all at Evans Funeral Home, Carrington.
Angie's Mass of Christian Burial will be held Tuesday, October 12, 2021 at 10:30AM at Sacred Heart Catholic Church, Carrington.
Her Burial will be at the Rosehill Memorial Park, Minot, ND.
Condolences are reviewed by staff.