Evans Funeral Home
"Compassionate Funeral Service"
Carrington and New Rockford, North Dakota
701.652.3003 or 701.947.2911
Secondary Number ~ 701.650.9937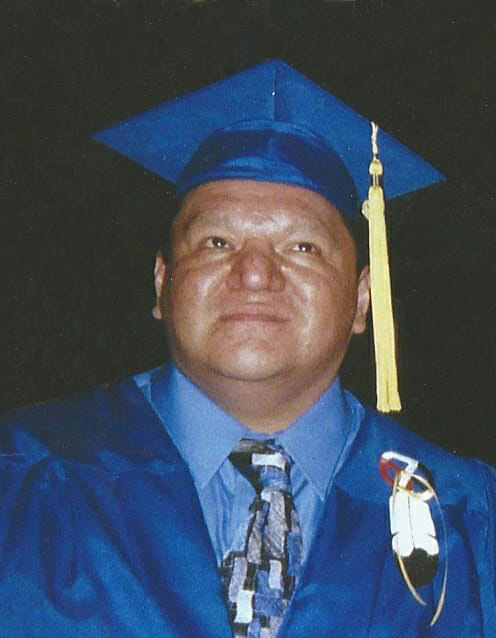 Gawlen George Brown Sr., age 49, of Crow Hill, ND passed away on April 2, 2020 at Altru Hospital in Grand Forks, ND with his loving family at his side.
Gawlen George was born September 6, 1970 to the late Stephen Brown Sr and Clara Brown of Crow Hill, ND. He graduated from C.C.C. College with a Business Associates Degree and Liberal Arts.  Gawlen worked at Valerie Merrick Library, Sioux Manufactory, Spirit Lake Casino and Resort.  He was a skilled mechanic and really loved working on vehicles which his father, Stephen Sr. taught him at a young age. 
Gawlen loved watching his favorite football team, the Green Bay Packers.  No matter what the score was, he was always excited to hear anything when it came to the word, Green Bay Packers.  He was always calling his family members to watch the game and have them suit up in green and yellow; anybody not in those colors, he'll give you the business.  Everyone knew him as a prankster who liked to play jokes on his buddies or either that, he would challenge anyone on a game of pool or bluff them just to play.  He also liked playing darts or just having a few cold ones with his buddies.  Gawlen also enjoyed hanging out with his siblings and of course, always making someone laugh.  He loved to cook and bake his favorite cake.  He cherished the time he spent with his family and siblings, along with his grandchildren which kept him on his feet and of course his best pal, Scooby-doo.  Gawlen's life on Earth was short but the memories are many and forever on our hearts.
Gawlen is survived by his loving family, his spouse, Tara Spotted Bird of Crow Hill, ND; sons, Gawlen (Georgie) Brown Jr., and Thomas (Bumpus) Brown both of Crow Hill; daughter, Lacey Brown of Crow Hill; sisters, Lenore White Lightening of Fort Totten, Larina Bugg of Fort Totten, Elaine Brown of Grand Forks, Stephanie Ramon of Fort Totten, Jackie Peltier of Fargo, Darlys Longie of Crow Hill, Gwendolyn Brown of Crow Hill, Twyla Brown of Fort Totten and Vernetta Brown of Grand Forks; brothers, Steve Brown Jr. of St. Paul, MN and James Brown of Crow Hill; uncles, Francis Brown of St. Michael and many dear aunts, uncles and cousins.
He was preceded in death by his father Stephen Brown Sr.; brother Robert (Bobby) Brown; sisters Carole Jane Brown, Carole (Rena) Brown, Carlene (Pearle) Brown, Ester Ann Brown and Celestine Brown; cousins Steve Stone, Kelly Stone and Eric Stone; nephews Jeffrey L. Robertson Sr., Thomas (Jasper) Short and Roberto (Beto) Ramon; niece Leonnae J. Brown and Clarence (Care Bear) Brown.
A Wake will begin Tuesday, 5:00PM followed by a Prayer Service at 7:00PM all at Evans Funeral Home, New Rockford, ND.
Funeral Service will be held Wednesday, April 8, 2020, at 10:00AM at Evans Funeral Home, New Rockford, ND.
Burial will be held in the spring at the St. Jerome Cemetery.
Condolences are reviewed by staff.