Evans Funeral Home
"Compassionate Funeral Service"
Carrington and New Rockford, North Dakota
701.652.3003 or 701.947.2911
Secondary Number ~ 701.650.9937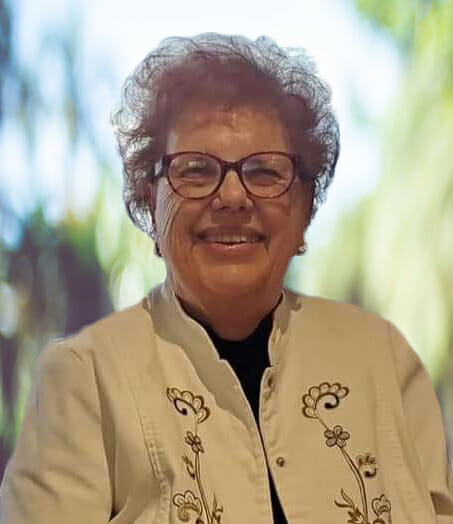 Gloria Bush, age 93, passed away on Thursday, December 9, 2021 at Sanford Health in Fargo, ND.
Gloria Jeanne Knott Bush was born on August, 22, 1928 in Bristol, South Dakota.  Her parents were Nellie Estella Hanson Knott and Truman Ceasar Knott.  Gloria moved to New Rockford in 1940. 
Gloria attended Fargo Business College and then went to work at the Sears Credit department.  She married Richard John Bush on November 15, 1947 at St. Mary's Catholic Church in Fargo. She was a stay at home mom from 1953 to 1971.  She then went to work at the Fargo Clinic, where she had never used an electric typewriter. She had wondered what she had gotten herself into, but never gave up until she mastered it. She worked over 40 years at the Fargo, MeritCare, and Sanford Clinic's and thoroughly enjoyed working, which is why she was still working part time in her 80's.
She had such a zest for adventure and instilled the travel bug in many family members. She traveled with her sister and made several trips to Yellowstone, Jackson Hole, and Santa Fe. Many summers were spent at Big Cormorant Lake, where pontoon rides were enjoyed, as well as Sioux Lookout, Ontario, Canada. She enjoyed driving and would rarely give that up. Even after she gave up driving, she was driving from the passenger seat. She had a lead foot with usually a token speeding ticket to remember each trip. She had the opportunity to traveled overseas and was fortunate enough to enjoy Italy twice and London. While in Italy, she developed a love for Gelato and would frequently want to shop for Gelato or ice cream in Fargo. She loved to spend time with her family and would take many trips with her parents to visit her siblings. She enjoyed going to her grandchildren's and great-grandchildren's birthday parties and special events. She was always known for sharing words of wisdom with them. She had unsolicited words of etiquette "stop hunching, and get those elbows off the table!" and advice "slap a little lipstick on it, and you'll be fine", which will be greatly missed. She had a love for Buddy, who was her lap companion for many years.
Gloria is survived by 4 children, Karen Jo in Fergus Falls, MN, John Bush (Shelly) on Little Cormorant Lake, Susan Lee (Roger) in Hillsboro, ND and Kathy (Tom) Fermoyle on Upper Cormorant Lake. Gloria has 8 grandchildren, Stephanie Sauby, Amanda Korynta (Dustin), Jennifer Bush (Albert Garcia), Taylor Dockter (Dylan), Lindsey Lee, Tara Fermoyle, Cody Fermoyle, and Amber Wellnitz (Barry); and 16 Great-grandchildren, Morgan Sauby, Zayne Sauby, Harper Sauby, Jersey Sauby, Dallas Bush, Dawson Bush, Mariah Bush, Eve Korynta, Mabel Korynta, Kenasyn Dockter, Mayson Dockter, Reagyn Dockter, Aria Boyd, Ridley Wellnitz, Torren Wellnitz, and Brezlyn Wellnitz.
She was preceded in death by her parents, husband, sister Phyllis Gorman Rosatti, brother Don Knott, and her great grandson Dion Bush.
Her Visitation will be Tuesday, December 14, 2021 from 12:00PM-1:00PM followed by a Mass of Christian Burial at 1:00PM at St. John's Catholic Church, New Rockford, ND.
Her Burial will be at the Prairie Home Cemetery, New Rockford.
Condolences are reviewed by staff.