Evans Funeral Home
"Compassionate Funeral Service"
Carrington and New Rockford, North Dakota
701.652.3003 or 701.947.2911
Secondary Number ~ 701.650.9937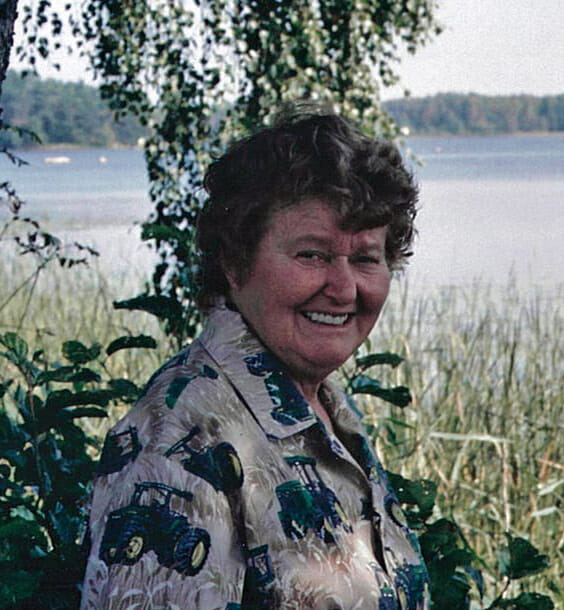 Blenda Carlson, 92, of Sheyenne, ND, passed away peacefully at her home in rural Sheyenne, ND on Wednesday, August 3, 2022.
Blenda Eleanor Carlson was born on April 17, 1930 in Twin Tree Township, Benson County, the daughter of Sven Wilgoth Sr. and Jennie (Anderson) Carlson.  Blenda was baptized and confirmed into membership of the Grace Lutheran Church, Sheyenne.  She received her education at Lone Tree #2 and graduated from Benson County Agriculture and Training School in 1950.  After the death of their father in 1950, Aileen, Blenda and Linnea gave up their career plans to work the farm and help their mother raise the younger children.  Blenda worked hard physically all of her life.  She was known to be the strong one and could pitch hay in the winter to fill a hay rack without a break.  The procession to the cemetery will be led by one of the tractors she used during her life time of farming.
She was President of the North Dakota Republican Women, which included trips to Washington DC and several other states.  Her travels also took her to Sweden seven times including a Eurorail ride to Germany to visit her brother Mauritz and family stationed there.  Since Swedish was Blenda's first language, there was no language barrier on these trips.  She traveled several times to Canada and once to Alaska.  She loved poetry and frequently quoted parts of poems she had memorized.  She was an accomplished leather crafter.  Making numerous projects from simple luggage tags to completing hand tooled saddles.  She loved horses all her life and said she knew there are horses in heaven because of Elijah's chariot.
Blenda is survived by three sisters Linnea Carlson, Sheyenne, Eunice (Newton) Dick, Lorena, TX, Judith Sorenson, Queen Creek, AZ, two brothers Wilgoth Jr. (Gail) Carlson and Mauritz (Eilene) Carlson, both of Sheyenne, numerous nieces, nephews, great nieces and great nephews.
She is preceded in death by her parents, sisters Aileen Berglund and Vivian Carlson, baby brother John Carlson, brothers-in-law Harry Sorenson and Erland Berglund, nephews Johnathan Berglund and Erik Carlson and great nephew "Lil" Sven Carlson.
Blenda's Visitation will be Sunday, August 7, 2022 from 2:00PM – 6:00PM at Evans Funeral Home, New Rockford.
A Funeral Service will be held Monday, August 8, 2022 at 10:30AM at Grace Lutheran Church, Sheyenne, ND.
Her Burial will be at the Riverside Cemetery, Sheyenne, ND.
Condolences are reviewed by staff.