Evans Funeral Home
"Compassionate Funeral Service"
Carrington and New Rockford, North Dakota
701.652.3003 or 701.947.2911
Secondary Number ~ 701.650.9937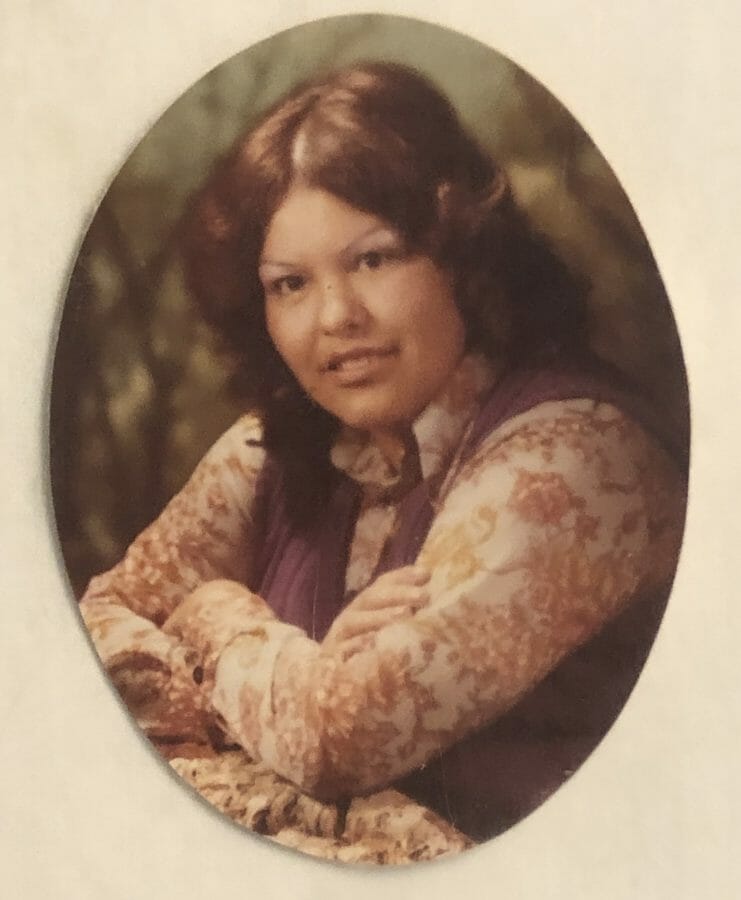 Patricia Cavanaugh, 64, of Fort Totten, ND, passed away on Thursday, August 11, 2022 at her home surrounded by her family.
Patricia Ann Cavanaugh was born on April 20, 1958 to Priscilla and Eugene Cavanaugh in Devils Lake, ND.  She went to school in Maddock and graduated in 1976.  After school she worked as a dispatcher at the Fort Totten Police Department and then she worked for the Spirit Lake Tribe in the housing department.  She then moved and went to college at UND and due to the flood of 1997, she moved back to Spirit Lake.  After moving back, she started working for the Spirit Lake LIHEP and then that's when her health started declining.  Patricia enjoyed having her grandchildren always around and loved spending time with them.  She also enjoyed going for rides in the country and going to South Dakota to see her sister.  Patricia liked family gatherings, cook outs, playing cards, Bingo and going to the Casino.
Patricia is survived by her daughters Emma (Darrell) Thumb, Nikki (Jay) Buckles, Rebecca Bear, Margaret Bear and Priscilla Bear; sons James Robertson Jr. and Jeremiah Robertson; sisters Carol Cavanaugh and Anita Thompson; brothers Frank (Roxanne) Cavanaugh, Raymond Cavanaugh and Alfred Thompson; God children Amber Lawrence and Dion Pacheco; grandchildren Bryson Robertson, Bryeann Robertson, Jay Buckles, Jayann Buckles, Chadley Buckles, Phenix Buckels, Cedric Bear, Ian Morin, Barrette Jr. Mudgett, Brock Mudgett, Charlie Mudgett, Dionna Waanatan, Adrian Thomas III, Jemini Gomez, Eugene Christianson, Kristopher Jr. White, Michelle White, Tricia Smith, Patricia Monette, James Robertson III, Jayden Robertson, Heaven Robertson, Jade Robertson, Jordan Touche, Janelle Touche, Jamison Touche, Savon Bear, Michaela Bear, Jeremiah White, Grant White, Emily White and Jaxson Laundreaux;  great grandchildren Mason Bear, Kyen Spottedbird, Rayni Azure, Hunter Bear, Sa'Marie Bear, Zyan Lovejoy, Grace Buckles and Jeremiah McKay; nieces Angeline See Walker, Amber Lawrence, Deshawn Lawrence, Bethany Balenton, Jean Cavanaugh, Fallon Cavanaugh, Kirstin Cavanaugh, Dawn Cavanaugh, Philieon Touche, Chynna Cavanaugh, Taylee Cavanaugh, Paris Cavanaugh, Alex'e Thompson, Beatride Laundreauz and Dawnece Bowker; nephews Sean Lawrence, Anthony Balenton, Demery Lawrence, Beau Balenton, Ramsey Cavanaugh, Brody Cavanaugh, Kallon Cavanaugh, Kalson Cavanaugh, Joel Cavanaugh, Brady Cavanaugh, Winston Traversie and Tyson Laundreaux.
She is preceded in death by her mother Priscilla Cavanaugh, father Eugene Cavanaugh, daughter Michelle Bear, sisters Margaret Cavanaugh, Magdaline Cavanaugh and Rochelle Cavanaugh, grandparents Sylvia & Frank Cavanaugh and John & Emma Adams, niece Felicia Cavanaugh, nephew Jonathan Lawrence and grandchildren Lahnel & Dahnel Charboneau.
Pallbearers: Beau Balenton ~ Anthony Balenton ~ Sean Lawrence ~ RJ Cavanaugh ~ Brody Cavanaugh ~ Michael Pacheco ~ Bryson Robertson ~ Kevin Dauphanias
Escorts: Eugene Christianson & Emily White
Honorary Bearers: Darwin Brown, Freda Dunn, Rose Labeau, Iris Black, Joy Yankton, Celeste Herman, Maxine & Raymond Buckles, Joe Cavanaugh, Kaylean Jones, Anthony San Migel, Savannah Touche, Ricky Laundreaux, Tracy High Elk, Clinton Darlett and Grace Thumb.  Thank you to the Devils Lake Hospital, Sanford of Fargo and to anyone who reached out to our family during this difficult time.  If we forgot to mention anyone, it was not intentional, please forgive us during this difficult time.
Patricia's Visitation will be Sunday, from 5:00PM-7:00PM followed by a Prayer Service at 7:00PM all at the Crow Hill Rec. Center, Fort Totten, ND.
Friends wishing to join the procession from New Rockford to Fort Totten may gather on the St. Jerome's road, Fort Totten, prior to 4:15PM.
A Funeral Service will be held Monday, August 15, 2022 at 10:00AM at the Crow Hill Rec. Center, Fort Totten, ND.
Her Burial will be at the St. Michael's Catholic Cemetery, St. Michael, ND.
Condolences are reviewed by staff.