Evans Funeral Home
"Compassionate Funeral Service"
Carrington and New Rockford, North Dakota
701.652.3003 or 701.947.2911
Secondary Number ~ 701.650.9937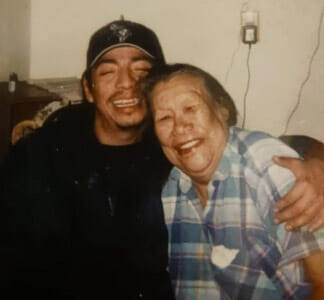 Percy Cavanaugh, 48, of St. Michael, ND passed away on Monday, December 19, 2022 at Altru Hospital, Grand Forks, ND.
Percy "Box" George Cavanaugh was born on December 7, 1974 in Devils Lake, ND to George Cavanaugh and Cynthia PoorBear.  Through Job Corp – Anaconda, Box got his CDL and his GED in 1992.  His hobbies were to just hang out with friends and play horseshoes.  Percy worked at the casino as drop team and Genuine Construction, D.T.I.
Box is survived by his daughter, Amber Lovejoy; son, Lance Cavanaugh; sisters, Vanessa Cavanaugh (Mark Littleghost) & Mary (James) Thompson; grandson Addison Cavanaugh; nieces, Jerrica Curley, Ariel Cavanaugh, Trinity Littleghost, Marissa Littleghost, Porsha Thompson and Paris Thompson; nephews, Marcus Cavanaugh, Ashton Littleghost, RaShawn Thompson, Cameron Thompson and Taylor Thompson.
Box is preceded in death by his grandparents; parents, George Percy Cavanaugh and Cynthia Ann PoorBear; infant brother, Llewellyn Vaughn PoorBear; uncles, Dominic, Tim, James & Robert "Hank" Cavanaugh, Patrick, Robert, James and Joe PoorBear; aunts, Elizabeth, Emma, Martha and Viola (Brown) PoorBear.
Pallbearers: Romie Cavanaugh ~ Robbie Cavanaugh ~ Elvis Demarce ~ Keith Longie ~ Marcus Curley ~ RaShawn Thompson ~ Paul Cavanaugh ~ Conrad Cavanaugh
Honorary Bearers: Cathy Twohearts, Trent Anderson, Jeff Cavanaugh, Clark Cavanaugh, Gerald Longie & Connie PoorBear, Maxine & Raymond Buckles, Butch Cavanaugh, Lila Anderson & Family, Kevin & Bruce Mindt, Glen Delorme, Wayne Delorme, Loretta & Glen Delorme Sr., Donavan Redroad, Kevin Redroad, Tracy Alberts, Kimmy Cavanaugh, Bruno Cavanaugh, Tony & Edward Lavallie, James Thompson Jr., Mark Littleghost, Delvin Greywater Jr., Aggie Cavanaugh, Helen Littleghost & Richard Littleghost, Ivy Lovejoy, Michael Buckles, Jonathan Jetty, Joseph Blackboy, and Inez Chaske
Percy's Visitation will be Monday, January 2nd at 5:00PM followed by a Prayer Service at 7:00PM all at St. Michael Catholic Church, St. Michael, ND.
A Funeral Service will be held Tuesday, January 3rd at 10:00AM at St. Michael Catholic Church, St. Michael, ND.
His Burial will be at the St. Michael Catholic Cemetery, St. Michael, ND in the spring.
Condolences are reviewed by staff.