Evans Funeral Home
"Compassionate Funeral Service"
Carrington and New Rockford, North Dakota
701.652.3003 or 701.947.2911
Secondary Number ~ 701.650.9937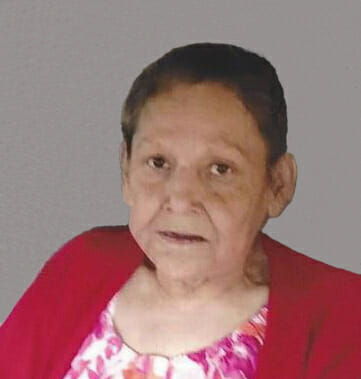 Mary Ellen Charboneau passed away peacefully at her home in Devils Lake on Friday, July 12, 2019, surrounded by her loving family.
Mary Ellen was born March 10, 1956 in Devils Lake to Hattie and Joseph Peltier, Sr.  She attended school at the Marty Indian School.  She was united in marriage to Patrick Charboneau on February 4, 1976.  Together they raised nine wonderful children.  Mary Ellen worked at various jobs in her lifetime.  She loved working in Belcourt school where she made ceramics and a wallet for her honey, Patrick. She served beverages at the Spirit Lake Casino, worked at DTI, as well as the Sioux manufactory for years.
Mary Ellen's greatest passion was being around her husband, children and grandchildren. She always looked forward to her daily call from her sister, Camilla. Mary enjoyed going to the casino, playing Keno and bingo. She also loved visiting with family and friends. Mary Ellen enjoyed every holiday with her family. Mary Ellen's greatest accomplishment in life were always being there for her children and grandchildren.  They did everything together, because that's what our family does.  She loved all her grandchildren but her favorites were Saberina, Brendon, and Destinee.  Mary loved to listen to old country music, her favorites were Conway Twitty and Loretta Lynn.  She loved when her two grandsons, Brendon and Womdee would sing. Mary's God Children were Charlie K and Jessalyn.  Our Mother, our heart, our everything, Mary will be greatly missed in so many ways. And a thank you to Amanda Charette for the Rosary. Also A huge Thank You To Devils Lake Hospice.
She was proceded in death by her parents, Joe and Hattie Peltier; two sons, Patrick Jr. and Peter James; one daughter, Mary Grace; brother, Joseph Jr. (Poopies); two aunts, Lorraine (Tootsie) and Phyllis McKay; uncle, Roger Herman; son in law, Marvin Charboneau; and the nine cousins, Carol, Ricki, Ricki Jr, Kayla, Crystal, Keith, Beverly, April and Russell.
Mary Ellen is survived by her husband, Patrick, nine children, Olisa (Greyhorn) Charboneau, Lonnie (Kendra Thompson) Charboneau Sr., Michael (April) Charboneau Sr., Chad Charboneau, Anthony (Samantha Hunt) Charboneau, Shannon Charboneau, Shauna Charboneau, Sue Ellen (Steven Firemoon Sr.) Charboneau and Shaina Charboneau; four sisters, Camilla (Raymond) Smith, Lila Vanette, Brenda Peltier and Andrea (Mike) Decotue; one brother, Patrick Dean Peltier; sixteen grandchildren and three great grandchildren.
Wake Service will begin Friday, July 19, 2019 at 5:00PM, with a Rosary Service at 7:00PM, all in St. Michael Recreation Center, St. Michael, ND.  Friends wishing to join the procession from New Rockford to St. Michael may gather on the St. Jerome's road, prior to 4:00PM.
Funeral Service will be held Saturday, July 20, 2019, at 11:00AM in St. Michael's Catholic Church, St. Michael, ND.
Burial will be held at the St. Jerome's Catholic Cemetery, rural Ft. Totten, ND.
Condolences are reviewed by staff.