Evans Funeral Home
"Compassionate Funeral Service"
Carrington and New Rockford, North Dakota
701.652.3003 or 701.947.2911
Secondary Number ~ 701.650.9937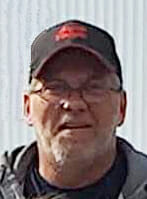 Timothy Roger Clapper, 52, Violet Hill, Arkansas, formerly of New Rockford, North Dakota, died Sunday, March 7, 2021, at his home.
Tim was born May 8, 1968, in Carrington, ND to Roger and Patsy (Davis) Clapper.  He married Sandi Duda on April 2, 1988, in New Rockford, and together they had four children.  He worked at Bobcat in Gwinner, ND, Harvey Sand and Gravel, Harvey, ND, and various other jobs.  He enjoyed fishing, hunting, boating, and spending time with his children and grandchildren.
He is loved and will be missed by his wife Sandi, his sons Randy (Krisdeanna), Michael, both of West Fargo, Trevor and Timothy Jr of Lufkin, TX, and special niece Hayleigh Clapper of Violet Hill, AR, grandsons Kilian Clapper and Jaydix Lautt, his mother Patsy Clapper, Dilworth, MN, brothers Robert (Val) Spokane, WA, Scott (Barb) Fargo, ND and Arlen, Bismarck, ND, sister Kim (James) Benson, Big Lake, MN, mother-in-law Carolyn Feist (Casper), several aunts, uncles, nieces, nephews and cousins.
He is preceded in death by his father Roger and grandparents Leslie & Lillian Davis and Robert & Lydia Clapper.
Public Visitation will be Friday, March 26, 2021 from 10:00AM – 1:00PM at Evans Funeral Home, Carrington.
 A Private Family Service will be held Friday, March 26, 2021 at 2:00PM at Evans Funeral Home, Carrington.
 A Private Family Burial will be at the Carrington Cemetery, Carrington.
Condolences are reviewed by staff.