Evans Funeral Home
"Compassionate Funeral Service"
Carrington and New Rockford, North Dakota
701.652.3003 or 701.947.2911
Secondary Number ~ 701.650.9937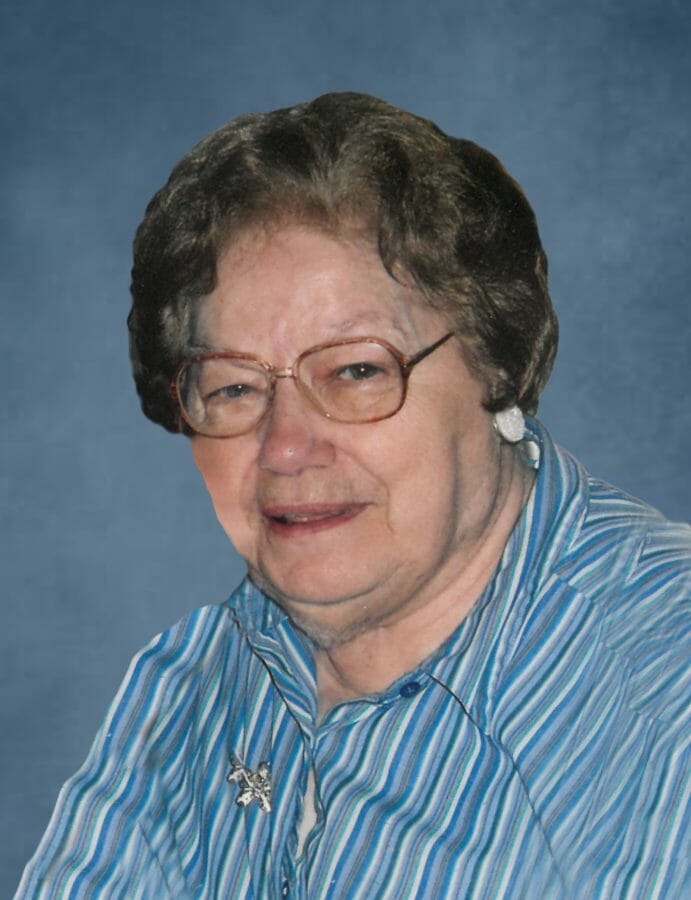 Lucille Clark, 93, of Carrington, ND, went to be with her Lord on April 15, 2022, with her family at her side, under Hospice Care at the Lutheran Home of the Good Shepherd, New Rockford, ND.
Lucille was born on April 30, 1928 in Foster County, the first born to Charles and Helen (Paluh) Hallwachs. She grew up in the Hawksnest Hills area attending Country School and graduated from Carrington High School.
On June 29, 1946, Lucille married Theodore "Ted" Clark in Carrington. Together they started Clark Truck Line, building their business for over 50 years. After starting a family, Lucille worked at Foster County Bank as Head Teller for many years. Once the family and business grew, Lucille stayed home to help with the trucking business once again.
Lucille will be remembered and deeply missed by her seven children; Holly (Russell) Greger, Fargo, ND, Candy Schroeder, Carrington, ND, James Clark, Detroit Lakes, MN, Thomas (Meredith) Clark, League City, TX, Joseph (Lois) Clark, Carrington, ND, Kathleen (Kelly) Perleberg, New Rockford, ND and Amy Clark, Oklahoma City, OK; fourteen grandchildren, Jodie (Stuart) Haring, West Fargo, ND, Kelly Greger, Tiffany Greger, all of Fargo, ND, Tim (Jill) Schroeder and  Rachel Schroeder all of Carrington, ND, Cody Clark, Houston, MO, Scott (Jessica) Clark, Mandan, ND, Josey Clark and Chyanne Clark both of Carrington, ND, Eric (Brittney) Perleberg and Ashley Perleberg both of New Rockford, ND, Reed (Tara) Koenig and Preston Koenig both of Woodworth, ND, Taylor (Taylor) Hanson, West Fargo, ND and nine great-grandchildren; three sisters, Ann Geske, Catherine Hertel and Carol Mehring all of Pingree, ND; a brother-in-law Charles Schock, Carrington, ND and a sister-in-law Joanne Fisher, Bismarck, ND. 
She is preceded in death by her husband Ted, her parents Charles and Helen Hallwachs; a brother Marvin Hallwachs; a sister Betty Schock; a son-in-law Larry Schroeder and one great-grandchild.
Lucille's Visitation will be Tuesday, from 12:00PM-7:00PM followed by a Prayer Service at 7:00PM all at Evans Funeral Home, Carrington.
A Funeral Service will be held Wednesday, April 20, 2022, at 10:30AM at the Federated Church UCC/UMC, Carrington, ND.
Her Burial will be at the Carrington Cemetery.
Condolences are reviewed by staff.