Evans Funeral Home
"Compassionate Funeral Service"
Carrington and New Rockford, North Dakota
701.652.3003 or 701.947.2911
Secondary Number ~ 701.650.9937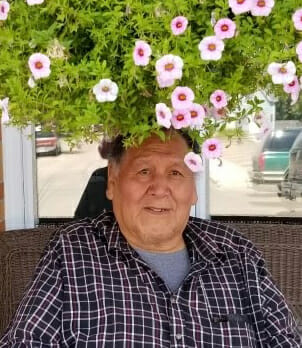 Aloysius "Big Al" Chaske Cloud (Walks Above), age 80, of St. Michael, ND, passed away peacefully surrounded by family on Sunday, July 31, 2022.
Aloysius Cloud was born on December 19, 1941 in Fort Totten, ND, the son of Mary Thompson and Jesse Cloud.  Al's mother passed away while giving birth, so he was raised by his grandma Gertrude and grandpa John Thompson and aunt Agatha Thompson.  He attended school at St. Paul's Indian Mission and Marty Indian School.  He went on to get his welding certificate in 1969 in Madera, CA.  He worked as a police officer for Fort Totten, Chamberlain, SD, Mississippi and California.
He drove semi along side his brother Michael "Buggs" Thompson for a period of time.  He would also cattle ranch with Big Joe Chaske, Art Thompson and Michael "Buggs" Thompson.  He enjoyed working alongside Art Thompson during this period of time.  He also worked for the Spirit Lake Tribe fixing the fencing for the buffalo pasture and for the Dakotah Sioux Casino, also known as the Spirit Lake Casino as a security guard.  He sat on the "Wodakato" traditional court, established by the Spirit Lake Tribe court.
Aloysius is survived by his brother Delbert Cloud, Standing Rock, ND; and special nieces-ReNa Little Lohnes, Myra Pearson and Baby Doll Smith and the Thompson/Cloud families.
He is preceded in death by his parents Mary Thompson and Jesse Cloud; grandparents-Sam & Nellie Cloud, John & Gertrude Thompson; Aunt-Agatha Thompson, Elizabeth Morgan & Edwina Cloud; Uncles- Michael Sr, James Sr, Francis, Moses and Ambrose Thompson.
Pallbearers: Alfred Thompson Jr. ~ Terry Morgan ~ Kojack Thompson ~ Sam Cloud ~ James Little ~ Paul Lawrence ~ Ken McKay ~ Miles Whitecloud ~ Duane Whitecloud ~ Tim Whitecloud ~ Terry Morgan Jr.
Honorary Bearers: Duane Guy, Roger Cavanaugh, Duane Jackson, Skip Longie, Debbie, Lisa, Colleen & Jolene Chaske, Tacan family, Wacanta family, Boy & Faye Jetty, Bob & Alfreda Charboneau, Jimmy Baker, Paulette Driver, King & Carolyn Walkingeagle, Littleghost family, Blueshield family, Lawrence family, Duane & Robin Smith and the Eventide Care Center staff, Jeannie & Terese Fournier.
Aloysius' Visitation will be Wednesday, 5:00PM -7:00PM followed by a Prayer Service at 7:00PM all at St. Michael's Wellness Center, St. Michael, ND.
A Funeral Service will be held Thursday, August 4, 2022 at 10:00AM at St. Michael's Wellness Center, St. Michael, ND.
His Burial will be at the Buggs Thompson Horse Ranch Cemetery, rural St. Michael, ND.
Condolences are reviewed by staff.