Evans Funeral Home
"Compassionate Funeral Service"
Carrington and New Rockford, North Dakota
701.652.3003 or 701.947.2911
Secondary Number ~ 701.650.9937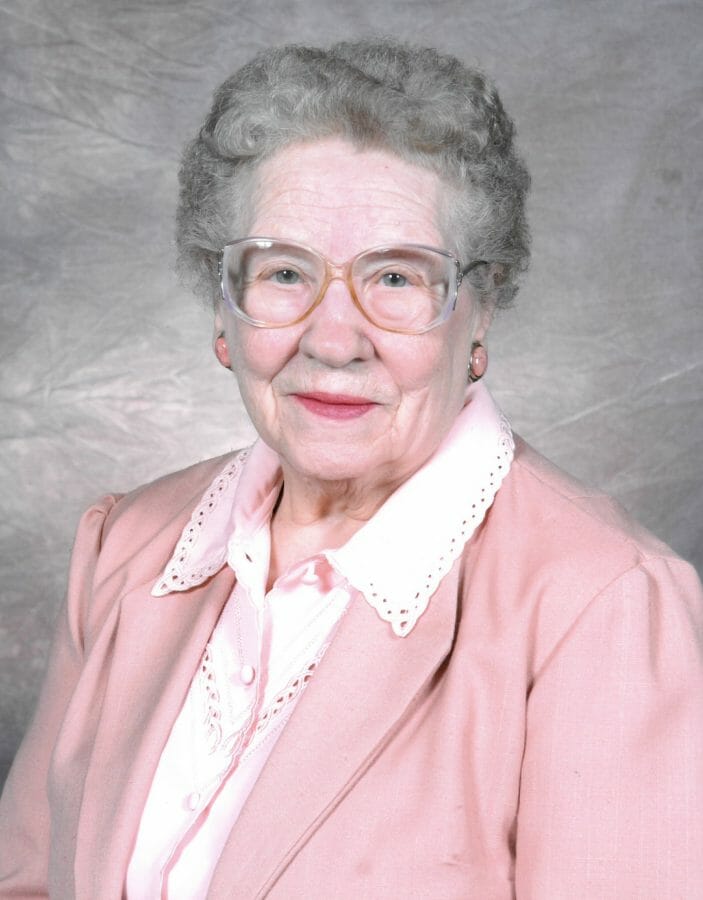 Doris E. Silkey, longtime resident of Carrington, ND, passed away on Tuesday, September 4, 2018 at Golden Acres Manor, Carrington, ND.
Doris Elaine Silkey was born to Grace (Carter) and Ross Reichert on November 25, 1920 at Carrington hospital in Carrington, ND.  She was raised on a farm just west of Carrington and attended school and graduated from Carrington High School.
Doris was married to Elmer Silkey on May 17, 1939, in the Trinity Lutheran Church parsonage.  To this union, Doris and Elmer were blessed with two sons, Richard Brian and Roger Dean.  At the time of Elmer's death in 1999, Doris and Elmer had been married just short of 60 years.
Nearly all of Doris's life was centered in Carrington, except for a short time during World War II when she and Elmer moved to Omaha, NE where Elmer worked in a military aircraft plant.
Doris was a loving and devoted wife, patient and caring mother, and especially took pride in doing her part as homemaker of the Silkey household. There was always something good coming from Doris's kitchen.   In later years, Doris was employed at the JCPenney store and Foster County Bank, both in Carrington.  She was an active member of Trinity Lutheran Church.
Doris is survived by her sons, Richard (Barbara), Dickinson, ND;  and Roger (Kathie), Fargo, ND; six grandchildren and ten great-grandchildren; and several nieces and nephews.
She is preceded in death by her parents, her husband (Elmer), one brother (John Robert) who was killed in World War II, and one sister (Florence).
Visitation will be held Monday one hour prior to services at Trinity Lutheran Church, Carrington.
Funeral Service will be held Monday, September 10, 2018, at 11:00AM at Trinity Lutheran Church, Carrington.
Burial will be held at the Carrington Cemetery.
Condolences are reviewed by staff.