Evans Funeral Home
"Compassionate Funeral Service"
Carrington and New Rockford, North Dakota
701.652.3003 or 701.947.2911
Secondary Number ~ 701.650.9937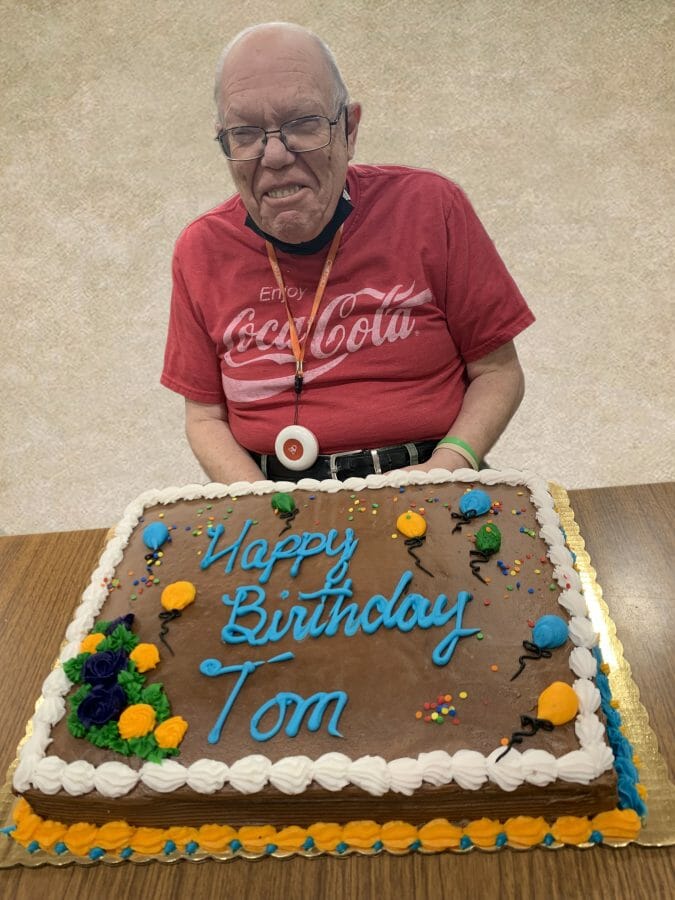 Thomas Emery, age 77, of New Rockford, ND, died Thursday, June 10, 2021, at his home in New Rockford.
Thomas Warne Emery was born March 30, 1944 in Aberdeen, South Dakota to Thomas Russell and Dorothy (Warne) Emery.   He joined his older sister Ramona.   Thomas was baptized into the Congregational Church on June 11, 1944 in Brentford, South Dakota.  The family moved to a farm outside of Edmunds, North Dakota in 1948.   Thomas lived at the Grafton State School from 1951 – 1983.   He joined the 4th Corporation family in 1983, living in Fessenden until 1986. Tom then moved to Tolna and lived briefly with the Hegvik family.  In 1988, Thomas returned to 4th Corporation in New Rockford and found his forever home.
In his earlier years at 4th Corporation, Thomas was an active member on job crews, crushing cans, paid jobs within the facility and playing "horse" in the driveway. Recently he enjoyed being retired, he still gathered and delivered mail.   He was a member of the Self Advocacy Club. 
Thomas had a smile that would light up the room and loved to joke and tease.   He carried a deck of cards in his pocket at all times.   You were considered a good friend if you got to play a game of War with him.    Thomas enjoyed watching TV Land, pro wrestling, and old Westerns; looking at car magazines, going to dances, parties and going out to eat.  He was an avid Coca Cola fan and would tease others with his daily can of Coke with a big smile on his face.  He enjoyed going to see his sister Ramona in Nebraska every year prior to her death in 2014.
Thomas looked forward to attending Wesley Acres and Red Willow camps each summer.   He loved to see camp staff and friends that he had known for years.   Thomas had a big heart that matched his smile, showing his affection to those closest to him.   He will be missed deeply by his family and friends at 4th Corporation. 
Thomas is survived by his 4th Corporation family of staff, housemates and friends; special friend Kellie Kreft; nephews Clyde Derry of Spearfish, SD and Craig Derry of Hot Springs, SD; Great Nieces Susie (John) Edmunds, Crystal and Holly Robinson all of Scotts Bluff, NE; Aunt and Uncle Linda (Dale) Mork of Aberdeen, SD.
Thomas was preceded in death by his parents Thomas Russell Emery in 1978, Dorothy (Warne) Emery in 1990, and sister Ramona Derry in 2014.
"Let us always meet each other with a smile, for the smile is the beginning of love."
Blessed be his memory.
Thomas' Visitation will be Wednesday, June 16, 2021 from 9:00AM – 10:00AM followed by a Funeral Service at 10:00AM all at Evans Funeral Home, New Rockford.
His Burial will be at the Prairie Home Cemetery, New Rockford.
Condolences are reviewed by staff.