Evans Funeral Home
"Compassionate Funeral Service"
Carrington and New Rockford, North Dakota
701.652.3003 or 701.947.2911
Secondary Number ~ 701.650.9937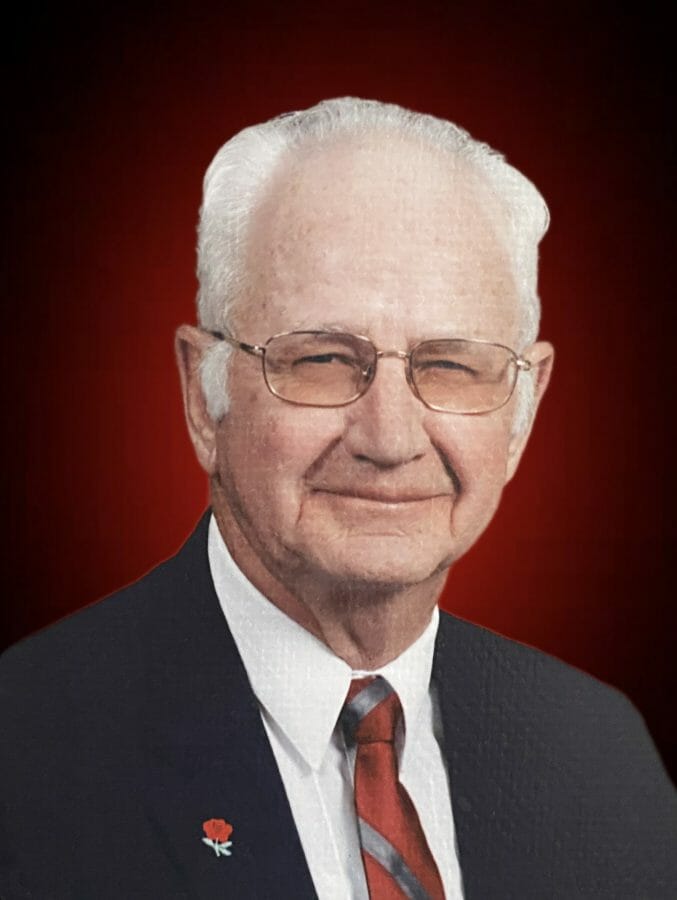 James William Ferguson, age 87, of New Rockford, ND passed away April 10, 2021 at the Lutheran Home of the Good Shepherd. 
James Ferguson was born on April 6, 1934 to Kenneth and Violet (Gwynn) Ferguson in Carrington, ND.   
He graduated with honors from Carrington High School.   After he graduated, he went to work at JC Penney for a period of time and then enlisted in the Army.  In the Army he worked with Morse code and built and fixed radios.
He met his wife, Marlys Seiler, at a dance and they were married on June 10, 1954 in Augusta, Georgia. They settled in New Rockford in 1960 where they raised their seven children. Many years were spent with his favorite dance partner.  They could cut a rug like no other. Everyone just loved to watch them on the dance floor.  It always looked like they were floating on air. James and Marlys spent many winter months in Mesa, AZ during their retirement years.
James was a man of many talents.  In the community he was known as James, in church as Jim the reader, Jake to his wife, Jimmy to his mother, or simply Dad and Grandpa.
James spent his adult life farming and served on many boards and committees. He was a member of the Eagles Club, St. John's Church and was a 3rd degree Knight in the Knights of Columbus.   He was a prolife advocate.  He could make anything run. He was very tech savvy and even built computers for himself and family.
James' deep and abiding faith, strong work ethic and unfailing honesty and integrity set an example for his children and grandchildren to live up to and strive for.
Privileged to have shared in his life and be loved by him were his wife Marlys of almost 67 years; his children and grandchildren; Kim Ferguson of Fargo, ND and her children Mandy (Matthew) Munro, Jared (Wendy) Balow, and Jessica (Dave) Passal; Roxann (Loren) Melvie of Bismarck and their children Brenden, Connor, and Devin Melvie; Jill Weber of New Rockford, ND and her children Casey Weber, Levi (Chelsey) Weber, Cassidy (Parm) Borst, and Lexie Weber; Jewel Turcotte of Chanhassen, MN and her children Nathan Turcotte, Kelsey (Preston) Weisenburger, and Tory (Lacey) Turcotte; Jay Ferguson of Sioux Falls, SD; Guy (Mandy) Ferguson of Bismarck, ND and their children Jayden, Kailee, Cru, Jonah, Hudson, and Hayden; Tye (Erin) Ferguson of Shakopee, MN and their children Madison, Jack, and Lucy.  He is also survived by soon to be 17 great grandchildren and several nieces and nephews.
Family members waiting to greet James in heaven are his parents, mother and father-in-law Joe and Marian (Ulness) Seiler; sister Lorraine Jensen, brother Eugene Ferguson, son-in-law Bradley Weber, and grandson Dylan Turcotte.
To all who are reading his "story", to all who have loved him, to all who have crossed his path, and to the staff who went above and beyond during his 16-month stay at the Lutheran Home of the Good Shepherd, we thank you for adding to the richness of this man's life. 
A Visitation will be Tuesday, 1:00PM – 5:00PM at Evans Funeral Home, New Rockford and will continue at church from 6:00-7:00PM; a Rosary Service will be held at 6:30PM followed by a Vigil Service at 7:00PM all at St. John's Catholic Church, New Rockford.
James' Mass of Christian Burial will be held Wednesday, April 14, 2021, at 11:00AM at St. John's Catholic Church, New Rockford.
His Burial will be at St. John's Catholic Cemetery, New Rockford.
Condolences are reviewed by staff.