Evans Funeral Home
"Compassionate Funeral Service"
Carrington and New Rockford, North Dakota
701.652.3003 or 701.947.2911
Secondary Number ~ 701.650.9937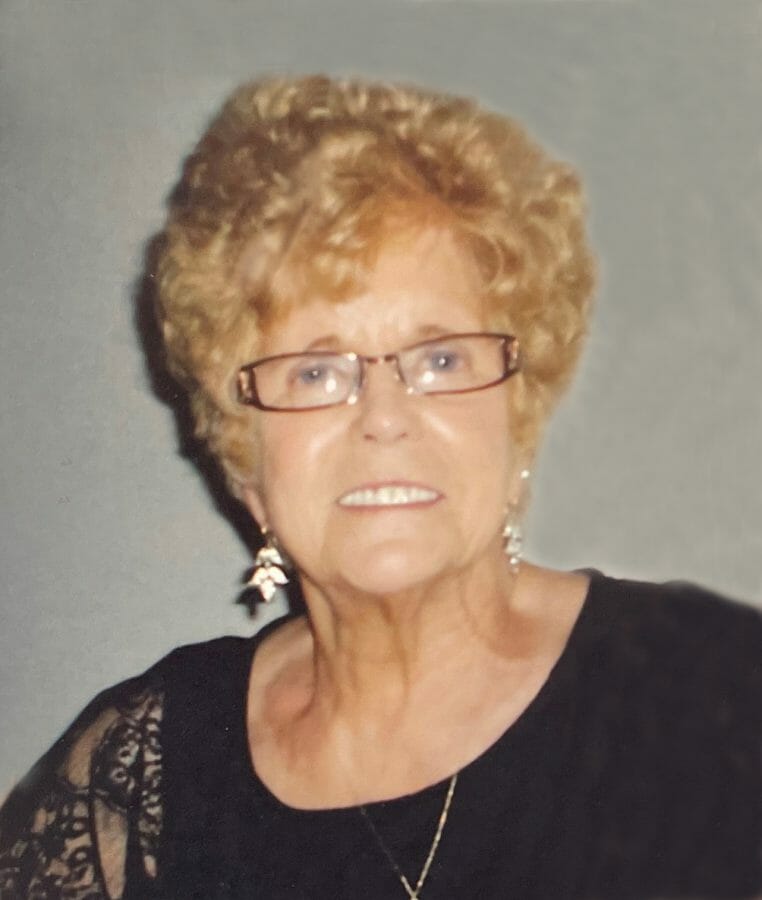 Marlys Ferguson, age 86, of New Rockford, ND, passed away on June 11, 2021 surrounded by family at the Lutheran Home of the Good Shepherd, New Rockford.
Marlys Joyce Seiler was born on November 18, 1934 to Joseph and Marian (Ulness) Seiler in New Rockford, ND.
She graduated from St. James Academy High School in New Rockford, ND.   After she graduated, she went to Aakers Business College in Fargo, ND.   She met her husband, James Ferguson, at a dance.  They were married in the Army Chapel at Camp Gordon, Georgia, June 10, 1954, where James was enlisted in the Army.   After James' discharge from the Army, they moved to Carrington for a few years until they began farming with her dad and her brother in New Rockford in 1960.  This is where they raised their seven children.
Marlys was an avid bingo-goer.  Many laughs and memories were created around those bingo cards through the generations.  We never could understand why she liked it so much, because you were supposed to be quiet; and as you know, Marlys was not exactly quiet.  Numerous days were spent playing pinnacle gathered around the kitchen table with relatives and friends.  As a young adult she belonged to a bridge club.  She was in a bowling league in Carrington for years, some nights even trudging her way home through a storm.  She also was a member of the Carrington Golf Club, where her children would wait anxiously for the delicious left-over food she would bring home.  We are not sure how much golfing was done, but know if she was around there was much laughter and visiting going on.  Needless to say, I think her legacy of the gift of gab will live on with her children.
Marlys loved to visit with people and was a very kind and giving person.   Many hours were spent floating across the dance floor with her favorite partner and husband of nearly 67 years.   During their retirement years, they wintered in Mesa, Arizona.
In addition to raising seven kids, being head chef, maid, chauffeur, Marlys worked at the ASCS office and also at St. James Grade School.
Marlys was a loving daughter, devoted wife and nurturing mother.  Her Catholic faith was very important to her and attended mass daily most of her life.  She was one of the founding members of the "prayer group", which she always looked so forward to. The words "well done, good and faithful servant" are so fitting for her well-lived life.
Privileged to have shared in her life were her children and grandchildren:  Kim Ferguson of Fargo, ND and her children Mandy (Matthew) Munro, Jared (Wendy) Balow, Jessica (Dave) Passal; Roxann (Loren) Melvie, of Bismarck, ND  and their children Brenden, Connor and Devin Melvie; Jill Weber of New Rockford, ND and her children Casey Weber, Levi (Chelsey) Weber, Cassidy (Parm) Borst and Lexie Weber; Jewel Turcotte of Chanhassen, MN and her children Nathan Turcotte, Kelsey (Preston) Weisenburger and Tory (Lacey) Turcotte; Jay Ferguson of Sioux Falls, SD; Guy (Mandy) Ferguson of Bismarck, ND and their children Jayden, Kailee, Cru, Jonah, Hudson and Hayden; Tye (Erin) Ferguson of Shakopee, MN and their children Madison, Jack and Lucy.  She is also survived by 16 great grandchildren with two more on the way; also several nieces and nephews, and sister-in-law Donna Seiler Enstad.
She is once again reunited with her husband after his passing two months ago, and oh what a reunion that must have been when she could once again speak.  Also waiting to greet Marlys are her parents, mother and father-in-law Kenneth and Violet Ferguson, brother Joseph Seiler (Junior), son-in-law Bradley Weber, and grandson Dylan Turcotte.
If you were blessed to have been a part of this woman's amazing life and shared in her friendship, we thank you.   We extend a heartfelt thanks to her beloved prayer group and to the staff at the LHGS for all their hours of hard work and devoted labor.
Visitation will be Sunday, June 13, 2021, 3:00PM – 5:00PM at Evans Funeral Home, New Rockford and will continue at church from 6:00PM-7:00PM; a Rosary Service will be held at 6:30PM followed by a Vigil Service at 7:00PM all at St. John's Catholic Church, New Rockford.
 Mass of Christian Burial will be held Monday, June 14, 2021, at 3:00PM at St. John's Catholic Church, New Rockford.
 Burial will be at St. John's Catholic Cemetery, New Rockford.
Condolences are reviewed by staff.