Evans Funeral Home
"Compassionate Funeral Service"
Carrington and New Rockford, North Dakota
701.652.3003 or 701.947.2911
Secondary Number ~ 701.650.9937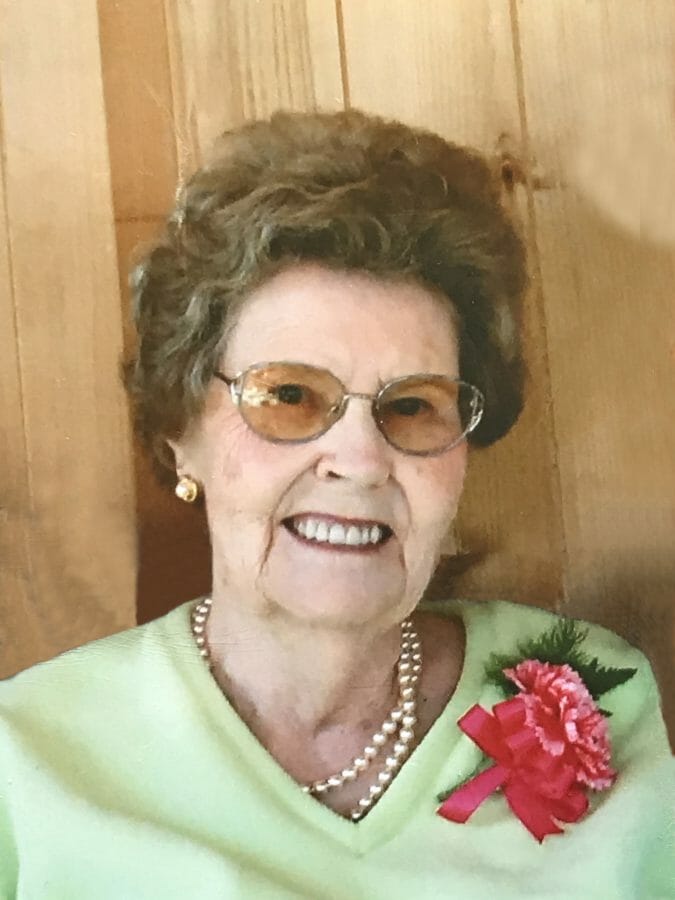 Lois Florhaug, age 99, of Kensal, ND, died December 6, 2019, in Golden Acres Manor, Carrington, ND.
Lois Bernice Nelson was born August 10, 1920, in Bottineau, ND, to Anton and Mabel (Hanse) Nelson. Lois grew up in Kensal, ND, graduating high school in 1938. She attended Valley City State Teachers College earning a standard diploma in elementary education. Lois taught in a rural school in Stutsman County for two years, in California for one year before returning to Kensal, where she taught at the Kensal Public School for many years.
Lois was married to Peder J. (Pete) Florhaug on September 13, 1945, at her parents' home in Kensal, ND. Pete and Lois purchased a farm northeast of Kensal, living there until 1985 when they built a house in Kensal. Pete passed away in 2008. Lois moved to Bismarck for a time, and has been a resident of Golden Acres Manor since December 2, 2013.
Lois enjoyed music and was active in choirs and small groups for many years. One of her many highlights was being selected to sing in the Vallejo, CA, United Choral Society's performance of the 'Messiah' in 1944, while she was teaching at a government school there. She loved to garden, raise flowers and plant trees. She was also active in the Kensal Methodist Church, Homemakers and many other community activities. A favorite pastime was watching her grandchildren's sporting events and school and church programs. Over the years, Pete and Lois enjoyed traveling, including spending several winters in Port Aransas, TX, and driving the Alaska Highway twice.
Lois is survived by her daughter Kathy Odegaard, Bismarck, ND; sons Steven (Karla) Florhaug, Austin, TX, and Roger (Nadine) Florhaug, Kensal, ND; brother Elwood Nelson, Lafayette, CO. Grandchildren: Mike (Renae) Odegaard, Suzie (Judge) Barth, Christie (Kurt) Gruber, Peder Florhaug, Jessica (Ryan) Eastman, Matthew Florhaug, Daniel (Ashley) Florhaug and Ross (Katie) Florhaug; 14 great grandchildren: Thomas and Casey Odegaard, Owen Barth, Kaylah Florhaug, Lauren and Hannah Yantis, Emma Gruber, Luke and Pierce Eastman, Nolan, Lydia and Boden Florhaug, Avery and Amara Florhaug and many nieces and nephews.
Preceding her in death were her parents, husband Pete, sisters Mabel Mead and Margaret Ableidinger and son-in-law Walter Odegaard.
Visitation will be Thursday, 5:00-7:00PM followed by a Prayer Service at 7:00PM all at Evans Funeral Home, Carrington.
Funeral Service will be held Friday, December 13, 2019 at 10:30AM at United Methodist Church, Kensal.
Inurnment will be at a later date in the Kensal Cemetery.
Condolences are reviewed by staff.