Evans Funeral Home
"Compassionate Funeral Service"
Carrington and New Rockford, North Dakota
701.652.3003 or 701.947.2911
Secondary Number ~ 701.650.9937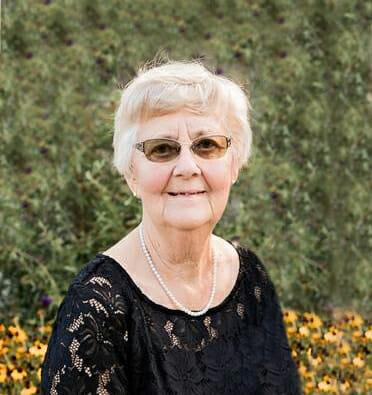 Jane Lillian Forde, Age 79, of Carrington, went to her heavenly home on Sunday, June 21, 2020, at Golden Acres Manor in Carrington, ND.
Jane Lillian Dahl was born November 26, 1940, in McVille, ND. She was one of five children to Algernon & Vivian (Willis) Dahl. Jane attended school in Tolna.
She was united in marriage to Lyle Glenn Forde on June 1, 1958, in Sigdal Lutheran Church. They were blessed with four daughters; Tamy, Lois, Teresa, and Jessie.
Jane wore many hats throughout her years; she worked at the NDSSS Cafeteria, the Rolette Hospital, and was an NDSU Lab Tech for twenty-two years. In 1966, Jane and Lyle became the proud owners of J&L Sales in Carrington, until Lyle retired in 2000.
She enjoyed nalbinding and working on prayer shawls, as well as working outside on her flowers and lawn. Jane loved the outdoors and wouldn't pass up an opportunity to go camping, fishing, or deer hunting. She shared a passion with Lyle for flying in his airplane and enjoyed the adventures they went on. She treasured the time she spent with her grandchildren and great-grandchildren and often teased about going back to work with her granddaughter at NDSU as her boss from March to May of each year.
Jane is survived by her daughters, Tamy (Kevin) Knigge; Lois (Jerry) Readle; Teresa (Donnie) Theis; Jessie (Bob) Schafer; grandchildren, Tamy- Erica (Mike) Rons, Danielle (Steve) Kawano, Sydney (Brandon) Coble, Jeremy Knigge (Tasha); Teresa – Kelly (Tom) Bjerke, Stephanie (Brandon) Miller; Lois- Sarah Chavez (Tomas), Nathan Reimer, John Mark Readle, Philip Readle; Jessie- Jerome (Libby) Lies, Laura Gilliss (Shane), Jessa (Evan) Gross, Zach Schafer; great-grandchildren: Tamy~ Ava, Jack, Ty, Carter, Aleah,  Hendrix, Marley;  Lois~ Isaac  Teresa~ McCoy, Hartley, Tenley, Brandt; Jessie~ Ashtyn, Owen, Crew, baby Gilliss; two brothers Willis Dahl, Lyle (Carrol) Dahl, one sister Margy (John) Messner; brothers-in-law, Jerry (Cheryl) Forde; Maurice (Marcia) Forde and Allan Forde; sisters-in-law, Iris Brimer and Doris Forde.
She was preceded in death by her loving husband Lyle; parents Algernon and Vivian Dahl; grandchild Brian Knigge; sister Sally Messner; nephews, Jerry Dahl, Rickie Forde, and Kevin Messner; father and mother-in-law Gerald And Edna Forde; brothers-in-law Leonard Messner, David Brimer, Robert Forde, Donald Forde; sisters-in-law, Shirley Dahl, Marlys Forde, Vivian Dahl.
Visitation will be Friday, 6:00PM-7:00PM with family present followed by a Prayer Service at 7:00PM all at Evans Funeral Home, Carrington.
Funeral Service will be held Saturday, June 27, 2020, at 1:00PM at Trinity Lutheran Church, Carrington.
Burial will be at the Carrington Cemetery.
Condolences are reviewed by staff.