Evans Funeral Home
"Compassionate Funeral Service"
Carrington and New Rockford, North Dakota
701.652.3003 or 701.947.2911
Secondary Number ~ 701.650.9937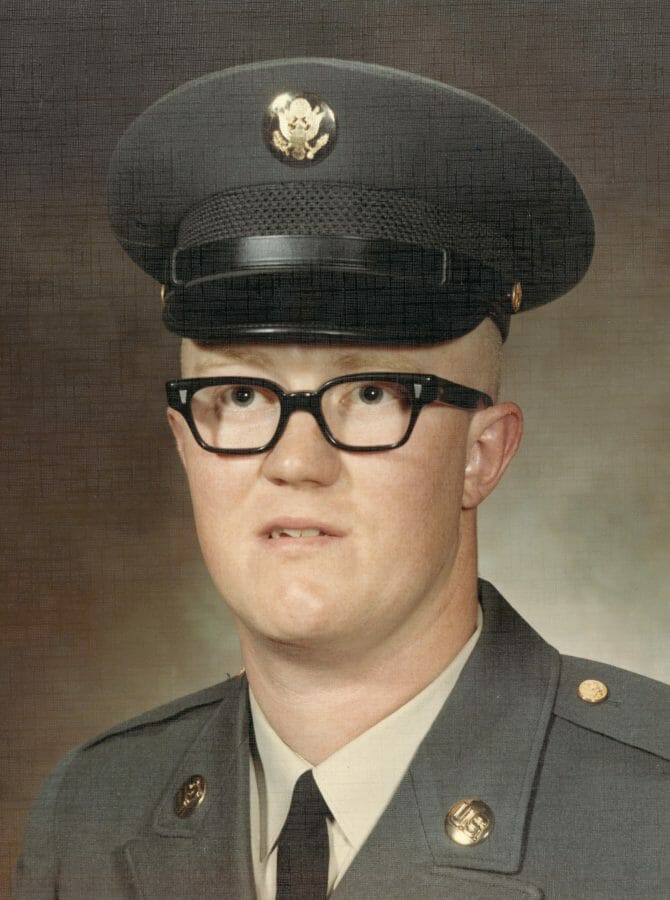 James D. Frederickson, age 73, of Carrington, ND passed away Friday, August 27, 2021, after a courageous seven year battle with ALS at Ave Maria Village, Jamestown, ND, with his wife Jane by his side.
James – "Jim" – "PD" was born Dec 1, 1947 in Jamestown, to LeRoy and Elizabeth (Reimers) Frederickson.  Jim attended 1st grade in Jamestown.  Second grade through 12th grade he was in Ray, ND and graduated in 1965 from Ray High School. During his summer years growing up he spent summers working on his Aunt & Uncles farms, Clarence & Lorraine Schroeder, Bud & Caroline Wolf, and Howard & Myron Reimers. Jim attended NDSCS in Wahpeton, ND, for two years finishing with a degree in auto body repair.
After graduating from NDSCS he worked for Fred Pepple at Carrington Motors enjoying his career in auto body.  Jim was drafted into the United States Army in 1968.  He served in the Vietnam War in the 101st Airborne Division – combat engineer, earning a National Defense Service Medal – Vietnam Campaign Medal with 1960 Device – Vietnam Service Medal with 2 bronze Service Stars – Bronze Star Medal and a Army Commendation Medal.
After returning from Vietnam Jim was employed in Jamestown at RM Stoudt in autobody.  He returned to Carrington and worked for Central City Lumber in sales.  On May 7, 1977, Jim was united in marriage to Jane Neumiller in Sykeston, ND. Jim did a short stint with ND State Highway Department, sales for Jim Vetsch Chevrolet, a lumber yard in Hebron, ND and Dakota Growers Pasta plant. He later returned to Central City Lumber until his retirement.  Jim was diagnosed with Parkinson's in 2011 and ALS (Lou Gehrig's disease) in 2014.
Jim is survived by his wife of 44 years, Jane (Carrington).  Brother David (Sharon) Frederickson, Plainview, MN and sister Becky (Rick) Pretzer, Carrington.  Sisters-in-law Pat Tofte Fargo, ND, Shirley (Larry) Jackson, Jamestown,  Mary Williams, Sykeston, Karen Neumiller, Sykeston.  Fur babies Ruby and Ava.  Numerous nieces and nephews that he adored along with many great and great-great nieces and nephews he enjoyed visiting with.
Jim enjoyed reading, wood working, deer hunting and working on his vehicles and the last few years the serenity of his back-yard garden.
Jim was preceded in death by his parents LeRoy and Elizabeth Frederickson; mother and father-in-law Richard & Virginia Neumiller.  Brothers-in-law James Neumiller, John Williams and Otto Tofte.  Nephews Brian Williams, Mathew Neumiller and James Anderson.
Memorials are appreciated to Carrington Cemetery Association, PO Box 355, Carrington ND 58421 or ALS Association MN/ND/SD Chapter, 1919 University Ave W Ste 175, St Paul MN 55401
Jim's Visitation will be Friday, September 3, 2021 from 12:00PM – 7:00PM followed by a Prayer Service at 7:00PM all at Evans Funeral Home, Carrington.
His Funeral Service will be held Saturday, September 4, 2021 at 10:30AM at Trinity Lutheran Church, Carrington, ND.
A Burial will be at the Carrington Cemetery, Carrington, ND.
Condolences are reviewed by staff.