Evans Funeral Home
"Compassionate Funeral Service"
Carrington and New Rockford, North Dakota
701.652.3003 or 701.947.2911
Secondary Number ~ 701.650.9937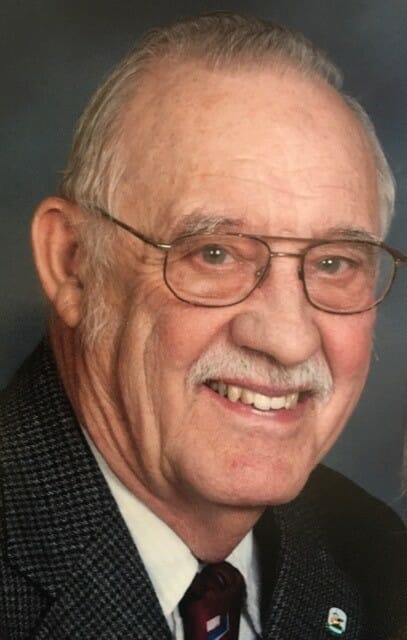 Roland P. Friezen, age 86, of Cathay, ND, passed away peacefully the morning of November 2, 2020, with his loving wife of nearly 65 years by his side.
Roland was born on February 15, 1934, in Carrington, ND. He was the first child of Peter and Kathryn (Kieffer) Friezen.
Roland grew up on the family farm in rural Cathay. He attended country school and finished his high school education in Sykeston in 1951. After high school, he farmed with his father until enlisting in the United States Navy. He served abroad the USS Vesuvius (AE-15) during the Korean War. He was on leave from the Navy when he married the love of his life, Laura J. Eaton, on November 17, 1955, at St. Elizabeth's Catholic Church in Sykeston. Shortly after, they left for California.
Following his release from active duty, Roland received his college education at California State Polytechnic University in Pomona, where he graduated with honors with a degree in Animal Science. While in Pomona, he worked for Southern California Edison Power Company. After leaving California, Roland worked for the United States Department of Agriculture (USDA) in Grants Pass and Pendleton, Oregon. He returned to the family farm in 1968, where he raised his family, farmed, and was a US rural mail carrier. He retired in 1999.
Roland was very community oriented. He served on many boards including school, church, township, and fire department. He was an avid league bowler for 52 consecutive years. He enjoyed golfing, watching sports, and attending all of his children's activities. Above all, his family was his pride and joy. He will be forever cherished and greatly missed.
Roland is survived by his wife Laura; five sons and two daughters. Timothy (Lori) Friezen, Grand Forks, ND, Thomas (Della) Friezen, Tucson, AZ, Kenneth Friezen, Mountain Home, ID, Kathryn (Robert) Hoffert, Grand Forks, ND, Patricia (Robert) Walton, Fargo, ND, Daniel (Erin) Friezen, West Fargo, ND, and Jonathan (Rosemary) Friezen, Cathay, ND. He is also survived by 10 grandchildren; 14 great-grandchildren; sister Marlys Miller, West Fargo, ND; brother Gerald (Evelyn) Friezen, Brookings, SD, and brother Alan (Beth) Friezen, Fargo, ND.
He was preceded in death by his parents, grandparents, many aunts, uncles, cousins, brothers-in-law, and sisters-in-law.
In lieu of flowers, please remit memorials to:
Sanford Neuroscience Clinic, 700 1st Avenue South, Fargo, ND 58103  or
Sanford Roger Maris Cancer Center, 820 4th Street North, Fargo, ND 58102  or
St. Elizabeth's Cemetery, 21 Anson Ave. NE, Sykeston, ND
His Visitation will be Friday, November 6, 2020, 1:00PM – 6:45PM with Family present from 5:00-6:45PM a Rosary Service at 6:45PM followed by a Vigil Service at 7:00PM all at Evans Funeral Home, Carrington.
His Mass of Christian Burial will be held Saturday, November 7, 2020, at 10:30AM at St. Elizabeth's Catholic Church, Sykeston, ND.
His Burial will be at St. Elizabeth's Catholic Cemetery, Sykeston, ND.
Condolences are reviewed by staff.