Evans Funeral Home
"Compassionate Funeral Service"
Carrington and New Rockford, North Dakota
701.652.3003 or 701.947.2911
Secondary Number ~ 701.650.9937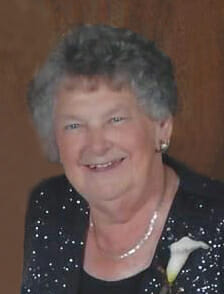 Edith Gehrtz, age 92, of New Rockford, ND, went home to Heaven on Wednesday October 28, 2020, at the Lutheran Home of the Good Shepherd in New Rockford, ND.
Edith Rose Cicha was born on September 20, 1928, at Veseleyville ND, the daughter of John and Josephine Cicha. She attended school in Conway ND.  Edith married Dean Gehrtz in Larimore, ND on August 30,1949.  She was a member of St. John's Catholic Church in New Rockford ND.
Over the years Edith was a dedicated and hard worker at the various jobs she worked at in New Rockford.  In 1983 Dean and Edith purchased the Silvercrest Bakery in New Rockford, ND.  They worked side by side up to their retirement in 1995.
Her most important jobs and the ones she was most proud of were being a devoted wife and an extraordinary mother and grandmother.  You could find her in the kitchen, her happy place, baking her famous homemade buns, bread, caramel rolls and baked goodies.  Having her family around was something she loved.  She had all the time in the world for laughter, hugs, kisses and kind words.  Edith always took care of her family before thinking of herself.
Edith is survived by her eight children, David (Patti) Gehrtz, New Rockford, ND, Dennis (Mary) Gehrtz, New Rockford, ND, Vickie (Mike) Bartholome, Devils Lake, ND, Carol (Mike) Risovi, New Rockford, ND, Steven (Elaine) Gehrtz, Fargo, ND, Shirley (Pat) Hughes, Covington, OH, Donna (Bruce) Gedrose, New Rockford, ND, and Curtis (Barb) Gehrtz, Fargo, ND, 19 grandchildren and 30 great grandchildren.
Welcoming her into heaven are her husband Dean, parents John and Josephine Cicha, brothers Charles and George Cicha, sisters, Florence Infeld and Alice Hippe.
In honor of Edith, the family is encouraging memorials be given to the Women's Auxiliary Cemetery Association, Box 303, New Rockford, ND 58356 in Edith's name.
Visitation for Edith will be Thursday November 5, 2020 from 9:00 AM to 5:00 PM at Evans Funeral Home in New Rockford, ND.
Due to CDC and North Dakota State Guidelines, a private family service will be held on Friday, November 6, 2020 at 2:00 PM at St. John's Catholic Church in New Rockford, ND.
Burial will be at the New Rockford Cemetery.
Condolences are reviewed by staff.