Evans Funeral Home
"Compassionate Funeral Service"
Carrington and New Rockford, North Dakota
701.652.3003 or 701.947.2911
Secondary Number ~ 701.650.9937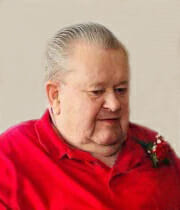 Albin Georgeson Jr., 79, of Warwick, ND, passed on Saturday, December 11, 2021 at the Good Samaritan Nursing Home of Lakota, ND, with his wife Sharon and granddaughter Bethany by his side.
Albin H. Georgeson Jr. was born March 30, 1942, in Maddock, ND to Albin and Hilda (Tildred) Georgeson.  He was the youngest of 10 children.  Albin grew up in Edmond, ND, and went to school in Maddock, ND, where he graduated high school and enlisted in the United States Air Force.  Albin served on the 6175th support squadron in Korea 1962.  He then graduated from Lake Region in auto mechanics and worked for Strata Inc. for numerous years.  His hobbies included making modeled airplanes, fixing puzzles, coloring and working on engines of any type but most of all spending time with family.
Albin is survived by his wife Sharon (Redfox) Georgeson; his daughters Lisa Georgeson and Yvonne Georgeson; adopted daughter Delphine Tikanye; his sons Albin "Matt" (Tina) Georgeson and Luke (Jen) Georgeson; adopted son Maynard (Jumbo) Tikanye; grandchildren Bethany, Kiesha, Hunter, Mark, Diego, Shania, Angel, Klint, Kory, William, Tia, Seanna, Skyler and Cassandra; great grandchildren Kaylen, Eden, Alex, Janeya, Nadia, Annie Jo and Serenity; brother Ardell Georgeson of Tennessee.
He is preceded in death by his parents Hilda (Tildred) and Albin Georgeson Sr.; sons Clint L. Georgeson and Mark Lufkins Sr.; adopted son Randy Tikanye; granddaughter Kayleetha Georgeson; 5 sisters, twins Adaline Zimbleman (96) and Adela Evans (82), Jane Olson (17), Dorothy Tracer (19), Dona Nichols (21); 3 brothers Roy (13), Palmer (06) and Harold O Georgeson who died while serving his country in the Korean War.
Pallbearers: Hunter Lufkins ~ Diego Lufkins ~ Mark Lufkins ~ Skyler Georgeson ~ Kaylen Georgeson ~ Klint Georgeson ~ Kory Georgeson ~ William Georgeson
Honorary Bearers: Louise Garcia, Jolene Littlewind and Family, June Littlewind and Family, Justine Littlewind, Spring Meade and family, RaNell Cavanaugh and Family, Adrian Jackson, Jarvis (Cookie) Jackson, Alyssa Jackson and family, Geraldine Redfox and Family, Tara Cavanaugh and Family, Russell and Edith Wallace, Glen Wallace, Bradly Beckstrand, Jason Thompson and Collette Brown, Waynita Chaske, Joy Azure, Roger Yankton, Brock Georgeson and Family, Verdane Georgeson and Family, Joan Alfstad, Aloysius Cloud, Gladys Baerwald, Dennis Smith, VFW, U.S Air Force 6175th Squadron, Lakota Good Samaritan Nursing Staff and Doctors and Spirit Lake Tribal Council.  If we forgot to mention anyone, it was not intentional for we are going through a very difficult time.
Albin's Visitation will be Monday, December 20, 2021 from 10:00AM -11:00AM followed by a Funeral Service at 11:00AM for family and close friends, all at Bdecan Presbyterian Church, Tokio, ND.
Family requests that all COVID-19 Suggestions are to be followed.
Friends wishing to join the procession from New Rockford to Tokio may gather on the St. Jerome's road, Fort Totten, prior to 9:15AM.
His Burial will be at the Bdecan Presbyterian Cemetery, Tokio, ND.
Condolences are reviewed by staff.