Evans Funeral Home
"Compassionate Funeral Service"
Carrington and New Rockford, North Dakota
701.652.3003 or 701.947.2911
Secondary Number ~ 701.650.9937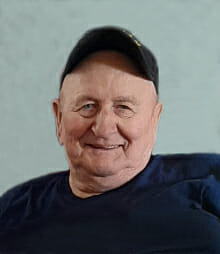 Carl Gillig, age 79, passed away on Tuesday, November 24, 2020 at CHI St. Alexius Health, Carrington, ND
Carl Jerome Gillig was born on December 1, 1940 to Eva and Martin Gillig at New Rockford, ND.  He grew up and went to school in New Rockford.  Carl joined the Army and later reenlisted in the Air Force.  He retired from the Air Force after many years of service.  He enjoyed hunting, fishing and cooking.  He liked wearing crazy shirts and making people laugh.  He also enjoyed going to the casino and spoiling his wife, Shirley.
He is survived by his wife Shirley, Sheyenne; step-daughters, Sherry (Eric Walker) Larson and Sara (Joseph) Dunn, both Jamestown; grandchildren, Felix, Breanna, Shayle, and Raymond; great-grandsons, Maeson and Hayden; sisters, Irene (Bud) Duursma, Carrington, ND, Donna (Elmer) Pebble, Belton, TX,  and Linda Bryant, Wahpeton, ND.
Carl is preceded in death by his parents, first wife Evelyn, son Carl Jr., and grandson, Jerome Dunn.
Visitation will be Friday, November 27, 2020 from 9:00AM – 5:00PM at Evans Funeral Home, New Rockford.
Funeral Service will be held Saturday, November 28, 2020 at Evans Funeral Home, New Rockford.
Condolences are reviewed by staff.