Evans Funeral Home
"Compassionate Funeral Service"
Carrington and New Rockford, North Dakota
701.652.3003 or 701.947.2911
Secondary Number ~ 701.650.9937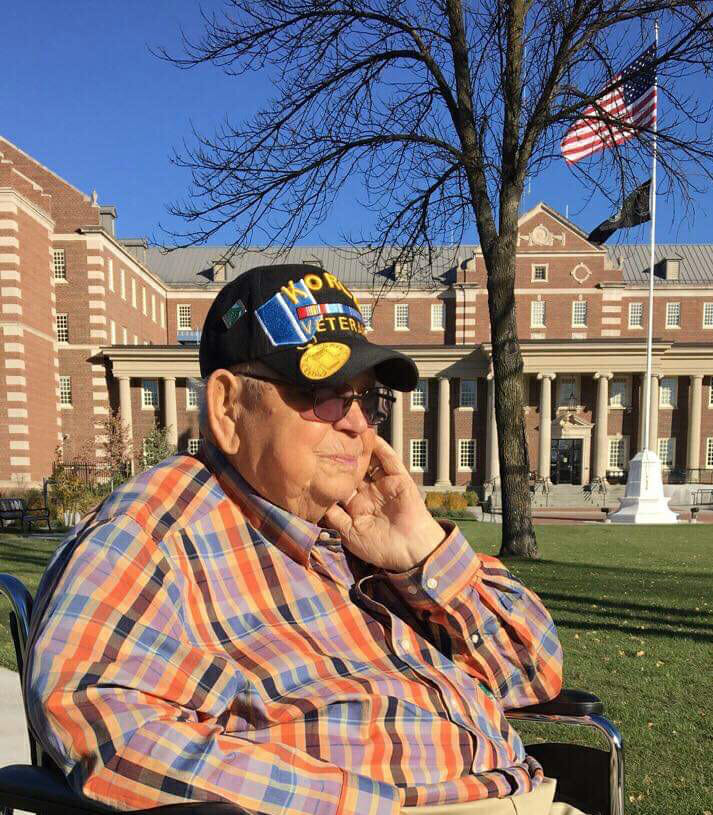 Russell L. Gilliss, age 90, of New Rockford, ND, passed away Saturday, February 16, 2019, at Bethany Retirement Living, Fargo, ND surrounded by his family who loved him deeply.
Russell LeRoy Gilliss was born September 14, 1928 at Juanita, Foster County, ND to Morris and Edna (Parker) Gilliss.  His grandparents were John McCurdy and Druscilla (O'Hearn) Gilliss and Clarence and Annie (Wentworth) Parker.  He was raised on Crystal Springs Ranch near Warwick, ND until 1942 when his parents bought their own farm in Lake Washington Township.  He attended Lake Washington School until the family moved to New Rockford in 1945 and he attended New Rockford High School where he excelled in athletics.  After graduating from high school he enrolled in college at the North Dakota School of Science.  The fall of 1947 he arrived on campus in a black Ford convertible ready to play basketball and football for the Wildcats.  During the off seasons he operated heavy equipment for Archie Campbell Construction, which was owned by his uncle and aunt, Archie and Jessie Campbell.  He graduated with an associate of arts degree and on February 23, 1951, he was drafted into the Engineer and Boat Shore Company in the Fifth Army.  His basic training was at Ft. Worden, Washington and he was later stationed on Indian Island, Fort Flagler.  While on leave he married Franzella Brown on August 19, 1951 at the Methodist Church in New Rockford. They started their married life off base at Discovery Bay, Washington.  In December of 1951 he was stationed along with the 369th Amphibious Support Group at Camp Desert Rock, Nevada.  He was a participant in the atomic bomb testing and was four miles from Ground Zero when the blasts occurred and was moved to Ground Zero to assess damages afterward.  While he was stationed there, Fran came home to await the birth of their first child.  After leave he was reassigned to Fort Flagler until he was honorably discharged.  The family moved back to New Rockford and he began a 35 year career with Archie Campbell Inc.
Russell had a lifelong interest in sports.  He once played on an alumni team against the Harlem Globetrotters in the old school gym.  He and Fran were avid Rockets fans missing very few sporting events involving their children and grandchildren and he was involved with Legion Baseball for 16 years.  His favorite teams were the Rockets, the BSC Mystics, NDSU Bison, Philadelphia Eagles, New England Patriots, and the New York Yankees.  Most times ESPN was on the TV, but you could still catch him watching old cowboy shows like Gunsmoke, The Rifleman, and The Big Valley. He also supported their children through their musical and church activities.
Russell is survived by his children, Barb (Roger) Caine, Vicky (Paul) Walker, Roselyn Watson, Buster (Pat) Gilliss, Doug Gilliss, and Bruce (Renae) Gilliss.  He is also survived by 18 grandchildren, 28 great grandchildren, and 5 great-great grandchildren.  A brother, Archie (Marveen) Gilliss and sister, DeLaura Dodds are also survivors along with numerous cousins, nieces, and nephews.
Russell was preceeded in death by his wife, Fran, in 2016, a daughter-in-law, Kristin Gilliss, his parents, grandparents, a brother and sister in-law, Don and Joy Brown, a brother-in-law Jackson Dodds, and his mother and father-in-law, Maynard and Frances Brown.
Visitation:  will be held Wednesday, February 20, 2019, 9:00-7:00PM with a Prayer Service at 7:00PM, at Evans Funeral Home, New Rockford, ND.
Funeral Service: will be held Thursday, February 21, 2019, at 11:00AM in First Congregational Church, New Rockford, ND
 Burial: will be held at Prairie Home Cemetery,New Rockford, ND  
Condolences are reviewed by staff.