Evans Funeral Home
"Compassionate Funeral Service"
Carrington and New Rockford, North Dakota
701.652.3003 or 701.947.2911
Secondary Number ~ 701.650.9937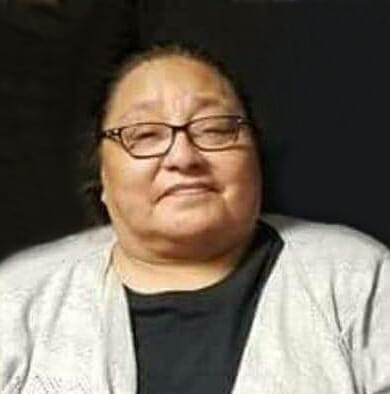 Paula A. Goulet "otaya wicku win", age 64, of Tomah, Wisconsin, passed away Tuesday, January 14, 2020. She was born August 25, 1955, in her family home by her Father. She grew up on Jackson Family land.  Paula graduated from Maddock High School in 1973.
On June 29, 1984, she married Joseph "Butch" Goulet.  They spent many happy years together.  She enjoyed going to garage sales, quilting, sewing, beading, playing slots and most of all spending time with her family.
She is survived by her husband, Joseph "Butch", her children, Phaedra Jackson, Philmore Jackson, Pernell (Berna) Jackson, Adrianne (Lindsey Sr.) Weston, 5 step-children, Randy "Joe" Goulet, Kory (Sue) Goulet, Curt (Jennifer) Goulet, Christy Goulet and Scotty (Courtney) Goulet, many grandchildren and great grandchildren, siblings, Phyllis McCloud, Burton Jackson and Debra Jackson.
She was preceded in death by her parents, Ignatius and Sadie, a son, Terry Goulet, brothers, Philip "Buzzy" Jackson, Ignatius "Ping" Jackson Jr. and Adrian Jackson and a sister, Claudette "Yiya" Ross.
Wake will begin Monday, January 20, 2020 at 5:00PM followed by a Rosary at 7:00PM all at St. Michael Rec Center, St. Michael, ND.
 Friends wishing to join the procession from New Rockford to St. Michael may gather on the St. Jerome's road, prior to 4:30PM.
Burial will be on Tuesday at 1:30PM at the Riverside Cemetery, Fargo, ND.
Condolences are reviewed by staff.