Evans Funeral Home
"Compassionate Funeral Service"
Carrington and New Rockford, North Dakota
701.652.3003 or 701.947.2911
Secondary Number ~ 701.650.9937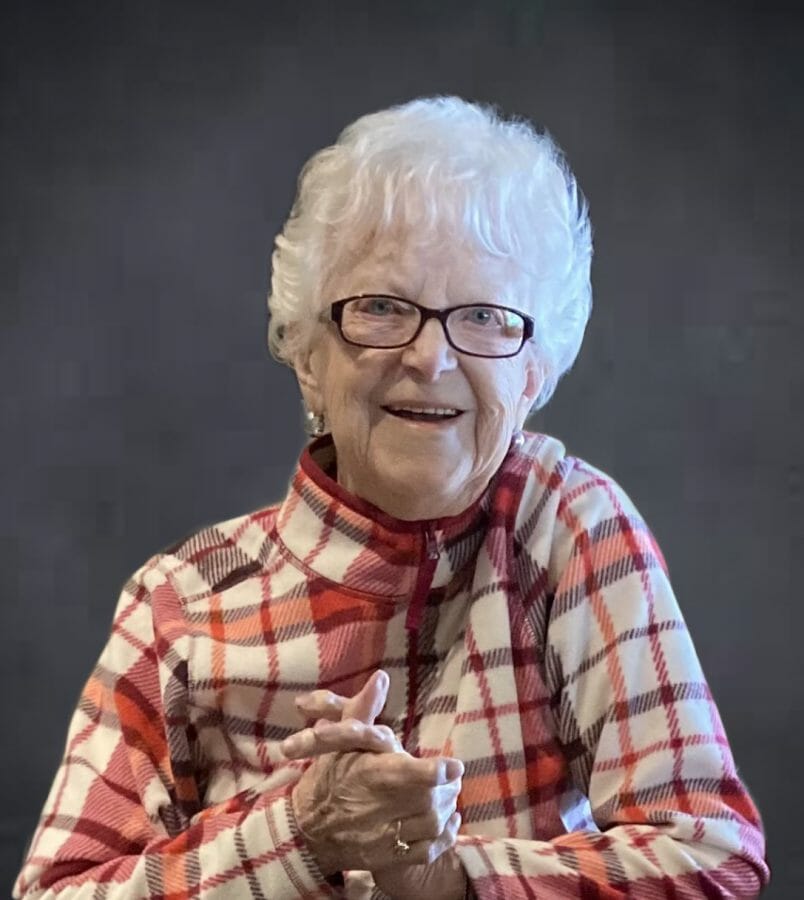 Verna Guler, age 90, of New Rockford passed away on November 19, 2021, surrounded by her family at Carrington Medical Center.
Verna Mae Proefrock was born March 4, 1931, in New Rockford, North Dakota. She was the daughter of Christian and Mabel (Simonson) Proefrock. Verna attended school in Hamberg, North Dakota through 8th grade. Her family then moved to New Rockford where she finished her education and graduated high school in 1949. Verna worked numerous part time jobs while going to school.
Verna married James Guler on November 29, 1949, in New Rockford. They raised their 3 children on the farm Southwest of New Rockford. In 1971, Jim became the Eagles manager and they moved into town. Verna worked alongside Jim at the Eagles for many years. She was an active member of Homemakers, Eagles Auxiliary and Circle. Verna enjoyed reading, watching the Twins games and baking, especially her brownies and bran muffins. Later in life she loved going to the casino with her friends and children! In July of 2012 Verna moved to the Heritage House in New Rockford and started a new chapter of her life.
The greatest blessings in Verna's life were her children, grandchildren, and great grandchildren.  She spent many hours thinking, worrying and praying about them, no matter how old they got or how far away they lived! One of her favorite things to do would be to grab anyone who was standing in her kitchen and dance with them.
Verna is survived by her children;  Patti (David) Gehrtz of New Rockford, Ruth (Leon) Mehlhoff of West Fargo, and Randy (Serena) Guler of New Rockford;  Grandchildren, Amanda (Todd) Boyer of West Fargo, Jason Mehlhoff of Fargo, Melanie (Kyle) Quinton of New Rockford, Jeffrey (Joanna) Gehrtz of West Fargo, Josh (Jodi) Guler of New Rockford, Monte Gehrtz of West Fargo, Lacey (Seth) Mathison of Walhalla, James (Carissa) Guler of Fargo, Marc (Madison) Guler of Fargo, Evan (Brianna) Guler of New Rockford, and Stephen Guler of New Rockford. Great grandchildren, Jackson, Carter, Talan, Sophia, Elise, Meah, Emmett, Riley, Mila, Jude, Bowden, Finn, Emerson, Myles, Hayes, and a new baby girl on the way.
She was proceeded in death by her parents, husband James, granddaughters Miranda and Monica Guler and great grandchildren Grace and Leon Boyer; a brother Charles Proefrock, two sisters Frances Horning and Dorlee Guler.
A Visitation will be Sunday, from 5:00PM-7:00PM followed by a Prayer Service at 7:00PM all at First Lutheran Church, New Rockford.
Verna's Funeral Service will be held Monday, November 29, 2021, at 2:00PM at First Lutheran Church, New Rockford.
Her Burial will be at Prairie Home Cemetery, New Rockford.
Condolences are reviewed by staff.