Evans Funeral Home
"Compassionate Funeral Service"
Carrington and New Rockford, North Dakota
701.652.3003 or 701.947.2911
Secondary Number ~ 701.650.9937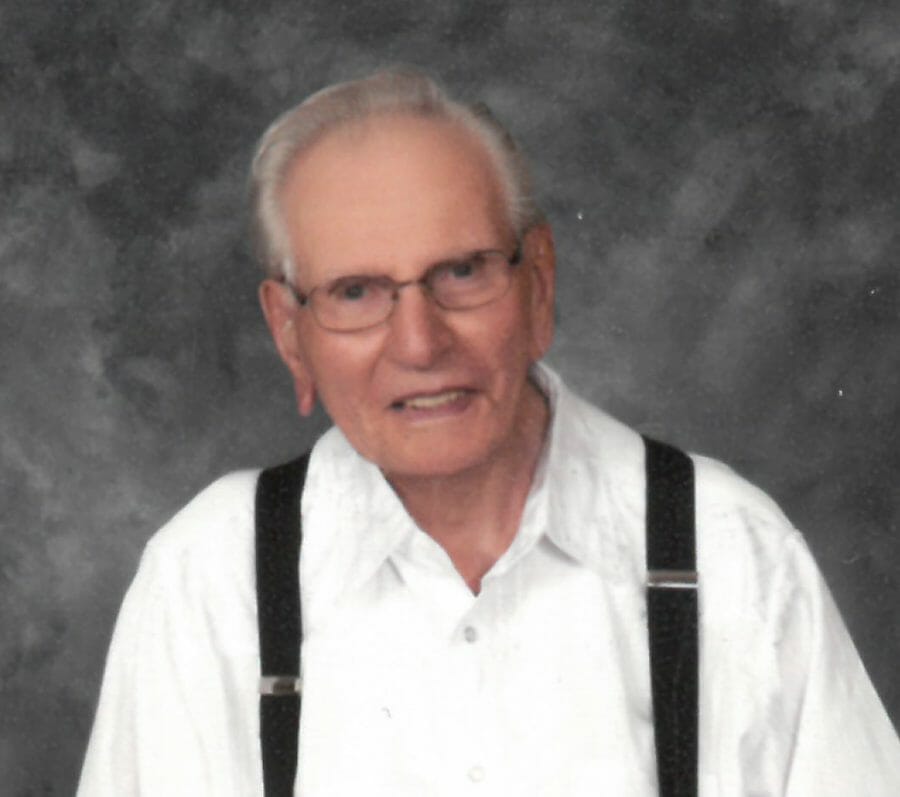 Joe Frank Hafner, 100, of Carrington, formally Sykeston, was welcomed into the kingdom of heaven on October 21, 2019 at CHI St. Alexius in Carrington.
Joe was born on July 17, 1919 on the family farm, located twelve miles south of Sykeston, to Nick and Elizabeth (Tischler) Hafner. His parents paid the doctor, who rode out on a horse and buggy, with a rooster for the delivery fee. Joe's mother Elizabeth died when he was only three years old.   Joe only spoke German for the first few years of country school.  He then attended the Catholic School from third to eighth grade.  When Joe turned sixteen, he served in the Civilian Conservation Corps, located in Mohall, ND running a bulldozer for $30.00 per month, which he sent $15.00 of that back home to his family.
He married the love of his life, Margie Lukenbach, on October 8, 1941.  They had two children, Gary and Sheila. While living on their farm, they raised polled Hereford cattle, milked cows, and farmed many grain crops. In 1985, they moved into Sykeston. Joe was a longtime member of St. Joseph's Society, the city council, park, township, and housing boards.
If ever anyone in the community needed a helping hand, you could always count on him to be there, and was never too busy to spend time with his family and friends. He rarely missed an evening bike ride, and you could always find him in his immaculate garden. He was known for his gardening green thumb, and thoroughly enjoyed sharing the fruits of his labor with his family and friends.
Joe and Margie spent fifty-one wonderful years together, until Margie passed on in January of 1993. He continued to plant flowers in her pots and kept everything just as she left it, until he moved into Golden Acres Manor in 2002.  Joe had spent 12 ½ years there, and had become a deeply loved resident and helper up until his passing.
Most importantly, Joe was a strong and mighty tower of the Christian faith. One could always find him with his rosary in hand, at a church service, or saying daily prayers for his family and friends. He was a man with a heart of gold and great faith, and made it well known to all that knew him, how patiently he was waiting to be taken to heaven. He had to wait 100 years, but his prayers were finally answered, and we all rejoice with Joe, that he was finally able to meet Jesus.
Joe is survived by his daughter, Sheila (special friend Lee) and daughter-in-law, Gloria. His grandchildren; Tammy (Mike) Stevens, Todd (Missy) Hafner, Bobby (Sharon) Hoyt, Shannon (Brenda) Hoyt, Valerie (Daren) Eli, Ryan (Mandy) Hoyt, and Cody (Shian) Hoyt; twenty-two great-grandchildren; eight great-great-grandchildren, a special niece Dianna (Jim) Heidinger,  Bev Hafner, as well as a special great nephew Troy (Connie) Hafner and Travis Hafner.
Joe was welcomed into heaven by his wife, son Gary, sisters Gloria and Rosemary, brother John and his wife Mary Jane, his parents, son-in-law Vernon, his grandson Cory and his wife Rhonda, special nephew Terry, and many other relatives and friends.
Visitation will be Sunday, 3:00PM-7:00PM with family present from 5:00PM- 7:00PM a Rosary Service at 6:45PM followed by a Prayer Service at 7:00PM all at Evans Funeral Home, Carrington.
Mass of Christian Burial will be held Monday, October 28, 2019, at 10:30AM at St. Elizabeth's Catholic Church, Sykeston, ND.
Burial will be at the St. Elizabeth's Catholic Cemetery.
Condolences are reviewed by staff.