Evans Funeral Home
"Compassionate Funeral Service"
Carrington and New Rockford, North Dakota
701.652.3003 or 701.947.2911
Secondary Number ~ 701.650.9937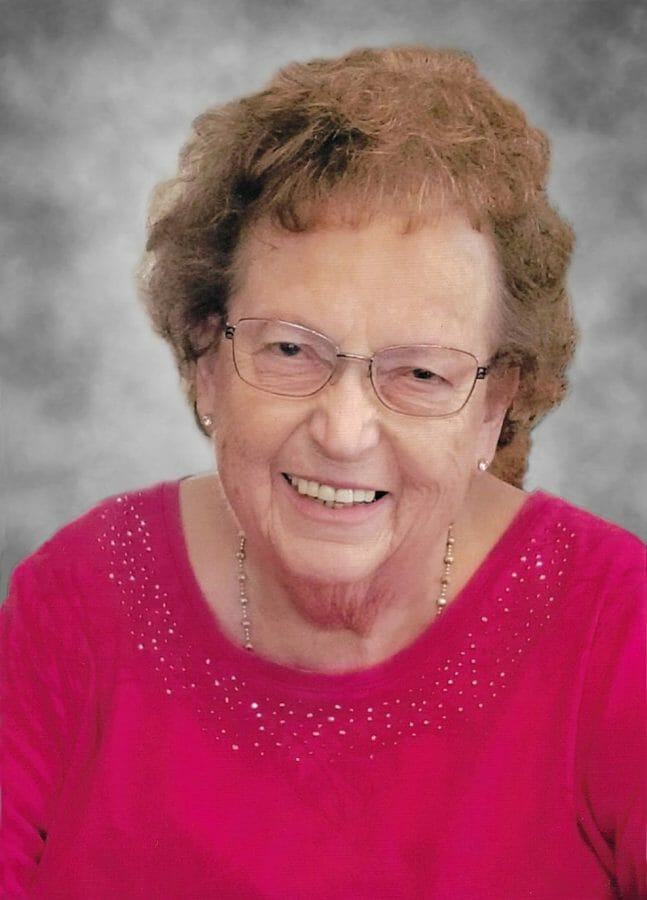 Darla Hagen, age 84, of Sheyenne, ND, died Saturday, January 21, 2023, at Sanford Health, Bismarck, ND.
Darla was born March 27, 1938 at the "Schafer House" which at that time was the hospital in Maddock, ND. She is the daughter of Elmer and Gladys (Mattson) Guskjolen; she was raised on the family farm in Arne Township, Benson County. Darla spent her first eight years going to Arne Country School, which was a two-room school, rural Maddock. She was Baptized in the Fairview Lutheran Church, rural Maddock, confirmed at Maddock North Viking Lutheran Church. During her high school years, she worked as a CNA in the Maddock Memorial Hospital and later at the State Hospital in Jamestown; she became the charge Nurse when they opened the new addition in 1956. Darla continued her education and graduated from Benson County Agriculture and Training School at Maddock on June 1, 1956.
On December 16, 1956, Darla was united in marriage to Virgil Hagen at Fairview Lutheran Church. They lived on a farm west of Sheyenne, where they were blessed with six children that grew up on the family farm. After twenty-seven years of being out of school Darla took a satellite Nursing Course out of Wahpeton, ND, (State School of Science) and graduated with a degree in Licensed Practical Nurse (LPN). Darla worked for several years at the Lutheran Home of The Good Shepherd in New Rockford and four years at The Good Samaritan Nursing Home in Devils Lake. She also cared for others in their homes in the area as an in-home care program.
Darla volunteered her time to many programs throughout the years, she was the President, Vice President and Secretary for the Eden Church Women, President of PTA at Sheyenne School, she belonged to Sons of Norway, she was on the Wells County Farmers Union Board for several years. She was also Secretary and Treasurer for the Fairview Cemetery Board. Darla taught Sunday School from 1964 until 1982, therefore she taught all of her children in Sunday School. She also taught Bible School for many years.
Darla loved her flowers, she could often be found during the summer in her beautiful yard and the gardens she grew. She enjoyed canning and baking everything from scratch that she produced.
She loved spending time with her children as they grew up and had children of their own. Spending time with her grandchildren was a highlight throughout the years and as they too grew up and had children of their own, marveling the time spent with her great-grandchildren. Many nieces, nephews and family friends were cherished as part of her own family. She loved all of those who she knew and they all loved her.
Darla is survived by two sons, Randy (Henrietta), Hutchinson, MN, Dean, Maddock, ND; three daughters, Charlotte (Douglas) Rupp, Crystal, MN, Nancy Hagen (Jeff), Harvey, ND, Cindy Schuster (Eric), Carrington, ND; many grandchildren and great-grandchildren; a sister, Janice (Herb) Hill, Appleton, WI and a brother, Larry (Nimfa) Guskjolen, Willcox, AZ, a brother-in-law, Delmer, Cathay, ND; a sister-in-law, Diane (Ed) Bratvold, Inver Grove Heights, MN; and two special family members, LaVonne Anderson and LaVerne Erickson, along with several nieces and nephews.
She was preceded in death by her husband, Virgil; a son, Craig; her parents; two grandchildren, Lauren Hagen and Andrew Martinez.
Darla's Visitation will be Thursday 1:00-7:00PM with family present from 5:00-7:00PM all at Evans Funeral Home, New Rockford.
A Funeral Service will be held Friday, January 27, 2023 at 11:00AM at First Lutheran Church, Sheyenne, ND.
Her Burial will be at the Eden Lutheran Cemetery, rural Sheyenne, ND in the spring.
Condolences are reviewed by staff.