Evans Funeral Home
"Compassionate Funeral Service"
Carrington and New Rockford, North Dakota
701.652.3003 or 701.947.2911
Secondary Number ~ 701.650.9937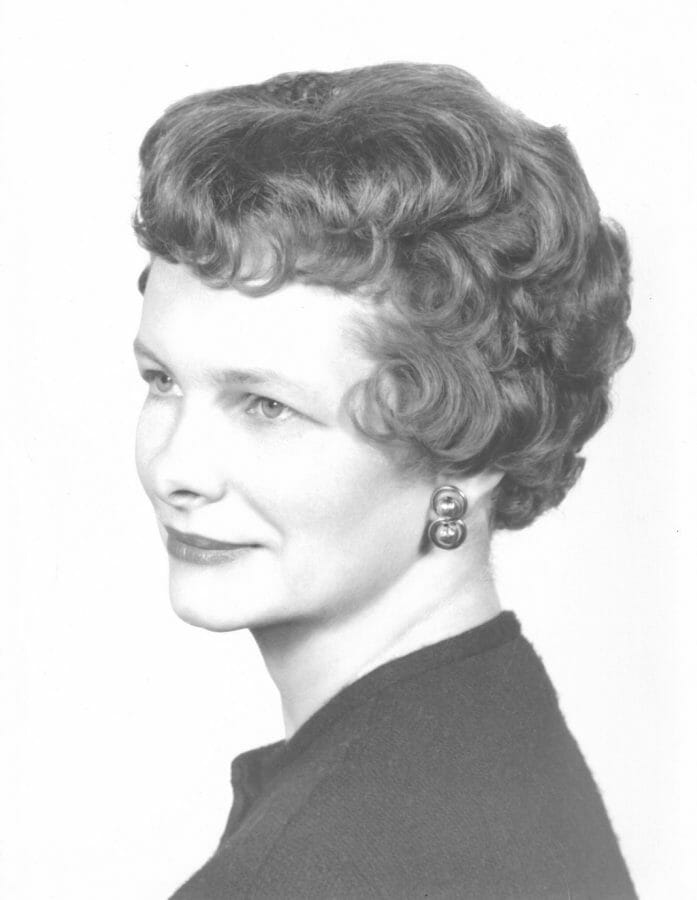 Arlys Harmon, age 93, died Monday, March 9, 2020 surrounded by her family at Golden Acres Manor, Carrington.
Arlys Inger Skadberg was born on March 21, 1926 in Carrington, ND to John and Mamie Skadberg. She graduated from Carrington High School and attended Concordia College for two years. She then taught math at Annamose High School, where despite her being almost as young as her students, inspired two to become math majors!
On December 27, 1946 she married Ralph Harmon, with the reception being held at the Harmon farmhouse.  Arlys and Ralph then returned to NDSU where their first son Michael was born in October, 1947.  Arlys graduated from NDSU in June 1948 with a degree in home economics, effectively becoming a wife, mother, college graduate and teacher all by the age of 21!
The next few years were spent in Austin, MN and Mitchell, SD where Ralph was employed with the Hormel organization.  Ralph and Arlys later returned to the family farm north of Carrington where they raised their children, hosted many holiday parties with their extended family and continued to grow the family farm operations.
Arlys was a mother, grandmother, great grandmother, home maker, active community member and avid bridge player.  She also loved gardening, sewing, painting and traveling.  She and Ralph traveled the world together and especially enjoyed spending time in Hawaii.  Arlys was talented at so many things and made you feel like every day was an adventure.  Every place she lived became a testament to her love of beauty and comfort.
Arlys is survived by her children Michael Harmon, Rapid City, SD, Jane Harmon, Los Angeles, CA, Kitty Harmon, Helena, MT, Joan Harmon(Jim Calder), New York City, Jim (Maria) Harmon, Carrington, Tom (Amii) Harmon, Eaton, CO, and Anne (Andy) Harmon Gale, Nyack, NY; sisters, Judy (Ron) Semmens, Mayville, ND, Sonja Shannon, Rapid City, SD; sisters-in law Jeanette Skadberg, Gold Canyon, AZ and Patti Skadberg, Carrington,  brother-in-law Arlo Neumiller Fargo, ND, 18 grandchildren , 15 great grandchildren and a large extended family of cousins, nieces and nephews.
Arlys was preceded in death by her parents, her husband Ralph her son Paul, five brothers, Stanley, Jerry, Marvin, Kermit, and Jim, sisters-in-laws, Elsie, Doris, Marvel and brother-in-law Robert Shannon.
Memorials can be given to the Carrington Cemetery Association, PO Box 355, Carrington, ND 58421.
Visitation will be Friday, 9:00AM-7:00PM with a Rosary Service at 6:45PM followed by a Vigil Service at 7:00PM all at Evans Funeral Home, Carrington.
Mass of Christian Burial will be held Saturday, March 14, 2020 at 10:00AM at Sacred Heart Catholic Church, Carrington.
Burial will be at the Carrington Cemetery.
Condolences are reviewed by staff.