Evans Funeral Home
"Compassionate Funeral Service"
Carrington and New Rockford, North Dakota
701.652.3003 or 701.947.2911
Secondary Number ~ 701.650.9937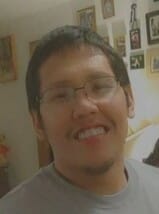 MJ was born on July 31, 1987 to Monte Herman Sr and Lorraine Alberts in Devils Lake, ND.
He was baptized at St. Micheal Church in 1987. He grew up in East Grand Forks, MN and Wahpeton, ND. He went to school in East Grand Forks, and Wahpeton. He got his GED in Bismarck, ND. MJ attended college at UTTC in BIsmarck for mechanics and was currently doing online classes from Fort Totten Community College. MJ was united in marriage to Amber Torma on November 1st, 2013 in Wahpeton, ND. MJ had 3 sons and 1 daughter from previous relationships. MJ was a natural mechanic and enjoyed working on and fixing different things, including computers. MJ had a heart of gold, and would have given the shirt off his back for you. MJ will be missed deeply by his family and friends. He is preceded in death by Robert Herman Sr, Robert Herman Jr, Grandpa Pierre, Grandma Florastine Culbertson, Julianne Smith, Baby Dave, Great Great grandmother Victoria Twiggs, Romauld Alberts Sr. Romauld Alberts Jr, Joseph Alberts Sr,
MJ is survived by his wife Amber, mother Lorraine Alberts, father Monte Herman Sr, 3 sons Alakye, Malakye, Alec, 1 daughter Kateri, brothers Brett Alberts and Dylan Herman, sisters Flora and Bobby Lou Herman, Fallon Cavanaugh, Renae Alberts. Grandma's Cynthia Alberts, Celeste Herman, and Myra Lohnes. Grandpa's Frank Redroad and Frank Lohnes, godfather Brian Thunder, Eunice Green. Many aunts, uncles, nieces and nephews.
MJ died unexpectedly on Monday December 21st, 2020 in Maddock, ND at the age of 33. 
Pallbearers are Dylan Herman, Austin Herman, Frank Lohnes Jr, Micheal Smith, Tracy Alberts, and Brian Alberts.
Visitation will be Sunday, December 27, 2020 at 5:00PM followed by a Prayer Service at 7:00PM all at St. Michael Catholic Church, St. Michael, ND.
Friends wishing to join the procession from New Rockford to St. Michael may gather on the St. Jerome's road, Fort Totten, prior to 4:15PM.
Mass of Christian Burial will be held Monday, December 28, 2020 at 10:00AM at St. Michael Catholic Church, St. Michael.
Burial will be at the Albert's Family Cemetery, St. Michael.
Condolences are reviewed by staff.