Evans Funeral Home
"Compassionate Funeral Service"
Carrington and New Rockford, North Dakota
701.652.3003 or 701.947.2911
Secondary Number ~ 701.650.9937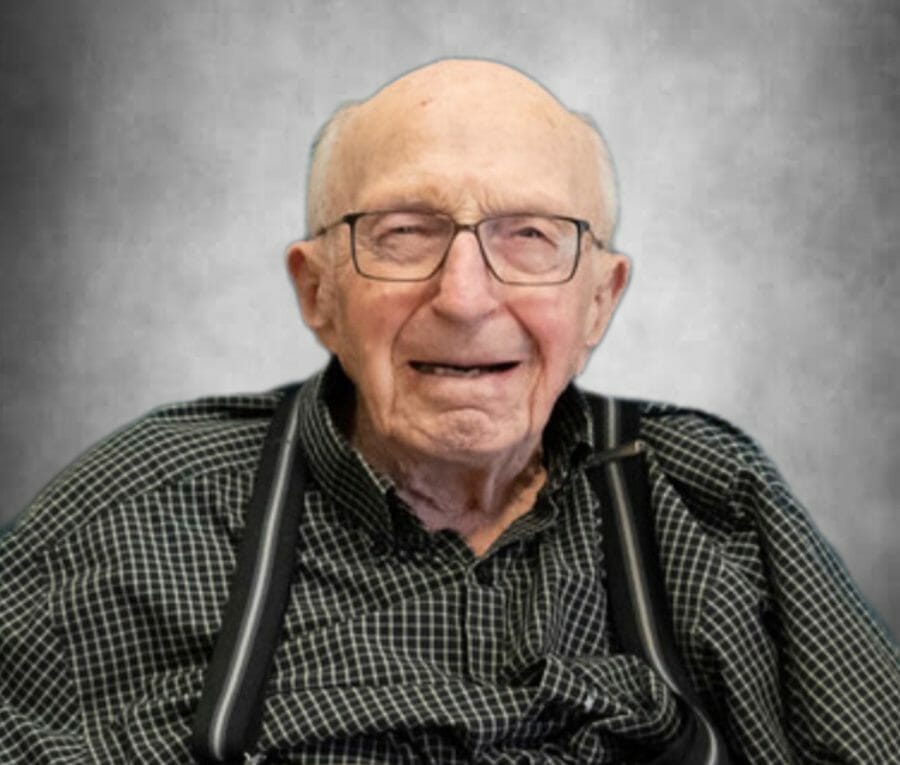 William "Bill" Hope, age 99, passed away Saturday, February 27, 2021, at CHI St. Alexis Health, Carrington, ND.
William Raymond Hope was born January 2, 1922,  to G. L. and Hazel (Fahy) Hope in Fessenden, ND.  Bill graduated from Fessenden High School in 1939.  He attended NDSU.  Two quarters short of graduating in 1943, Bill enlisted in the Army Air Corps.  As a flight engineeer on a B-29 he flew missions over China, Japan, and the Southeast Pacific. After World War II, he continued his service as an Air Force Reservist from 1947 to 1971, retiring as a lieutenant colonel. When he returned to the states, Bill married Donna Carter on September 19, 1945, in Seattle, WA. They returned to Fessenden after his discharge, where he joined his father's Ford dealership. Bill moved the business to New Rockford in 1951, later merging with Albert Haas' International Harvester dealership to form Town and Country Motors. He retired from that business in 1979.
Bill was active in his community and his church, a long-time member of Kiwanis, the Masons, Shrine, and Grand Commandery, American Legion and VFW.  He was a member of the First Methodist Church board for many years, and often served as church treasurer.  He was inducted into the Order of the Arrow for his service to the board of Boy Scout Troop 174.  He also served on the city Park Board at a time of growth in local recreational facilities,  and was one of the first to hold a lifetime membership in the New Rockford Golf Club.  In his retirement, Bill served as municipal judge for over ten years.
He is survived by five children: Ronan Rolland, Benson MN, W. Carter (Jacqueline) Hope, Kennewick WA, Jennifer (Mike) Martin, Rock Springs WY, James (Jackie) Hope, Dickinson ND, and Sharron Hope, New Rockford ND; seven grandchildren: Adam Rolland, Rachel Rolland, Garrett Hope, Andrea Hope Hall, Andrew Martin, Nathan Martin, and Patrick Hope; seven great-grandchildren and several nieces.
Bill is preceded in death by his wife of 61 years, Donna; parents G. L. and Hazel Hope; siblings Helen H. Graves, Richard A. Hope, and Harriet Winn; brother-in-law Robert H. Carter and son-in-law Richard Rolland, Jr.
Memorials may be made in Bill's name to the Lutheran Home of the Good Shepherd or Prairie Home Cemetery Auxiliary.
​Funeral Services will be on Saturday, July 24, 2021 at 11:00AM at First Congregational Church, New Rockford, ND.
Burial will be at the Prairie Home Cemetery, New Rockford, ND.
Condolences are reviewed by staff.