Evans Funeral Home
"Compassionate Funeral Service"
Carrington and New Rockford, North Dakota
701.652.3003 or 701.947.2911
Secondary Number ~ 701.650.9937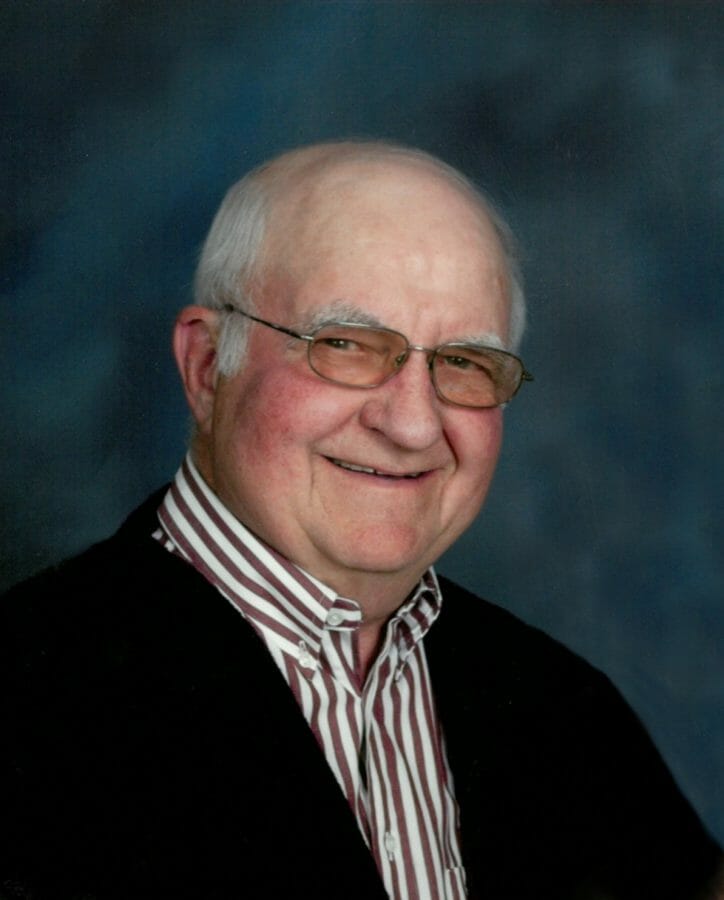 Edwin Huss, age 85, St. Joseph, MN, formerly of Sykeston, ND, passed away peacefully surrounded by his family, on the evening of February 4, 2019.  Edwin was born August 1, 1933 to Michael Huss and Elizabeth (Hafner) Huss on their farm in Sykeston. He grew up on the family farm until graduating from Sykeston High School in 1951.  He was united in marriage to his high school sweetheart, Lou Ann Wild, on September 27, 1954 at St. Elizabeth's Catholic Church in Sykeston.  They were blessed with four children and filled their home with faith, love, and laughter.
Edwin drove the Standard Oil bulk delivery truck until he enlisted in the U.S. Navy in May of 1952. He was proud to serve at the Headquarters of the 8th Naval District in New Orleans and the Naval Command in Washington, DC.  After his honorable discharge in 1956, he attended 1 year at Wahpeton State School of Science.  Edwin was honored to serve the community of Sykeston as rural mail carrier for 25 years, and then as Postmaster for another 14 years.  He was known to drive 95 miles a day, 6 days a week, in all kinds of weather without an accident or missed delivery.  After his day on the job, he would often continue working – he was known to be a skilled carpenter and painter, as well as a laborer at Lundby Elevator.
Edwin was a generous soul and served in a variety of ways.  He was a member of St. Elizabeth's Catholic Church serving as a Parish Council member, Sexton of the Cemetery, Lector and CCD teacher.  He was active in city government serving on the city council and park board.  He served on the Wells county Planning Board and was a member of the Americans with Disabilities Act Advisory Board.
Edwin was a member of the Sykeston Fire Dept, life member of ND Firemen's Assoc, FOE Eagles, Knights of Columbus, St. Joseph Society, Sykeston American Legion where he was a member for 62 years (39.5 years serving as adjutant).
Edwin was an avid sports fan!  His favorite activities were coaching grade school basketball, Pee Wee and Babe Ruth baseball.  He also enjoyed playing cards and dancing.  He greeted everyone with a smile and a story or joke. May his kindness and compassion live on through all of us.
He is survived by his wife of 64 years, Lou Ann; children, Gail (Brad) Morlock of Lewiston, ID; Vicki Carlson of St. Joseph, MN; Amy (Mike) Miller of Fort Gibson, OK; and Kent (Sarah) Huss of Minot, ND; eleven grandchildren and ten great-grandchildren; siblings, Catherine Kutz, Robert (Barbara) Huss, Sally Wescom, Pauline (Babe) Risberg; sisters-in-law, Carol Wild, Jean (Pat) White; many nieces and nephews.
He is preceded in death by his parents; father and mother-in-law, Alphonse and Mary Wild; son-in-law, Gregg Carlson; siblings, Ann Marie (Orvell) Lundby, Bernie (Grace) Huss, Raymond Huss, Leo (Mary Jane) Huss; brothers-in-law, Clinton Kutz, Mick Wescom, Jack Wild, Doug Wild; nephew, Mark Huss; niece, Brenda (Kutz) Hewitt.
Visitation will be held Tuesday, February 19, 2019, from 9:00AM to 5:00PM in Evans Funeral Home, Carrington and 6:00-7:00PM with a Rosary at 6:45PM followed by a Prayer Service at 7:00PM all in St. Elizabeth's Catholic Church, Sykeston, ND.
Funeral Service will be held Wednesday, February 20, 2019, at 10:30AM in St. Elizabeth's Catholic Church, Sykeston, ND.
Burial will be held at the St. Elizabeth's Catholic Cemetery, Sykeston, ND at a later date.
Condolences are reviewed by staff.