Evans Funeral Home
"Compassionate Funeral Service"
Carrington and New Rockford, North Dakota
701.652.3003 or 701.947.2911
Secondary Number ~ 701.650.9937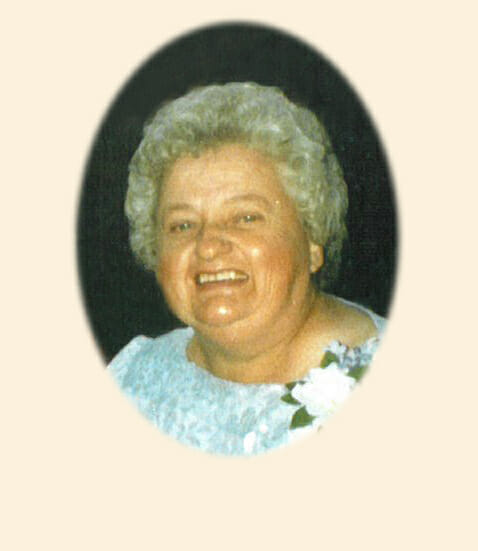 Esther (Klindworth) Indergaard, age 83, of Carrington passed away Saturday, May 25, 2019 at Golden Acres Manor, Carrington. Esther was born November 22, 1935 in Harvey, North Dakota, the daughter of Walter and Ruth (Andersgord) Klindworth.  She grew up in Hamberg, North Dakota, and attended elementary school there. Esther attended high school in Fessenden, graduating in 1954.  Esther met James Indergaard at a dance in Harvey; they later married in South Dakota.  They lived for a short period of time in Greybull, Wyoming, before moving to the Indergaard family farm near Brantford. Esther and James raised their five children on the family farm. Following the death of James in 2001, Esther moved into Carrington along with their son James.
Esther taught her family the importance of faith, family, and love. Esther's greatest joy was her family and taking part in all their activities.  She had a good sense of humor and loved to be surrounded by her family and friends. She enjoyed decorating for and celebrating all of the holidays. Esther also enjoyed visits with neighbors, sports, gardening, shopping, going to the casino, and eating out. Esther was a devoted member of Kvernes Lutheran Church and its Ladies Aid. 
Esther is survived by her children, James W. Indergaard, Carrington, Sharon Laxdal, Edinburg, Fran (Dennis) Walen, Glenfield, Ruth (Andrew) Braaten, Carrington, and Tim (Bobbi) Indergaard, New Rockford; eleven grandchildren, Bryce, Brandon (Ashden), Brooke (Mike) & Blake (Hannah) Laxdal, Alicia (Rob) Sawyer & Angela Walen, Noelle & Nikki Braaten, Brittany (Justin) Backer, Amanda (Taylor)  Koepplin & Ryan Indergaard; four great grandchildren, Lyla, Ahna, and Zoie Sawyer and Hollis Shaw; brother Alfred "Sonny" Klindworth, Harvey, sister, Pearl (Charlie) Evenwoll, Shevlin, MN; sister-in-law, Marsha Klindworth, Garrison; brother-in-law, Mervin Indergaard, Carrington, and numerous nieces and nephews.
She was preceded in death by her parents, husband James, son-in-law, Todd Laxdal, brothers, Larry, Clarence, Paul, and Walter, Jr., and sisters, Frances Klindworth and Marion Gibbs.
Visitation:  will be one hour prior to services at the church. 
Funeral Service:  will be at 2:00PM Tuesday, May 28, 2019 at Kvernes Lutheran Church, rural Carrington, ND.
Burial:  will be at Kvernes Lutheran Cemetery, rural Carrington, ND 
Condolences are reviewed by staff.