Evans Funeral Home
"Compassionate Funeral Service"
Carrington and New Rockford, North Dakota
701.652.3003 or 701.947.2911
Secondary Number ~ 701.650.9937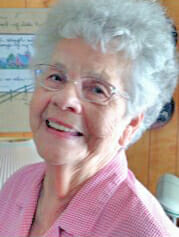 Margaret "Peggy" Irmen died on Sunday, September 16, 2018, at the Lutheran Home of the Good Shepherd in New Rockford, ND, at the age of 93.
Margaret Gwendolynn Irmen was born on March 13, 1925, in Fargo, ND to Thomas and Esther Olson. Peggy graduated from New Rockford High School. She married Walter Irmen and moved to the farm and became homemaker to 11 children along with caring for foster children. Peggy was one of the kindness people you ever met, she opened her heart and home to many children over the years, teaching and leading by example of what a good mother really was. Peggy worked at the Cathay Public School as a cook and later went to work at the New Rockford hospital nurse assistant.
Peggy is survived by children, Tony (Susan) Irmen, Robert (Cheri) Irmen, Kathy (Rusty) Hewitt, Margaret Wittmann, Don (Ann) Irmen, Karen (Wayne) Seckerson, Greg (Linda) Irmen, Steve (DeeDee) Irmen; Son-in-law Gus Lange, Daughter-in-law's Sonia Irmen, Pennie Irmen; 32 Grandchildren, 54 Great Grandchildren, and 3 Great Great Grandchildren; 2 brothers: Ralph (Janice) Olson, Arden Olson.
She is preceded in death by husband, Walter Irmen; sons Leon Irmen, David Irmen; daughters Patricia Lange, Mary Irmen and grandson Scott Lange and Devin Irmen. Parents Thomas Thorvaid Olson and Esther (Barsness) Olson, brothers: Edmund Olson, Harold Olson, sisters: Evelyn Rowan, Marian Buckholdz, Clarice Schagunn
Peggy is also survived by her many friends who became her family.
Donations in her name can be sent to; Lutheran home of the Good Shepherd, 1226 1St Ave N, New Rockford, ND 58356, funds to be used for new dishwasher and Ronald McDonald House Charities, 4757 Agassiz Crossing S, Fargo, ND 58104 as she loved and cared for all children.
The Family extends their sincere thanks, appreciation and gratitude to all friends and well-wishers for the calls, visits, time, resources, cards, flowers, tributes, etc. during this time of celebrations and reflection of Peggy.
Rosary Service: Thursday, September 20, 2018 at 6:40PM in St. John's Catholic Church, New Rockford, ND
followed by a prayer service at 7:00PM.
Mass of Christian Burial: Friday,September 21, 2018 at 10:30AM in St. John's Catholic Church, New Rockford, ND
Burial: St. Joseph Catholic Cemetery, Bremen, ND
Condolences are reviewed by staff.